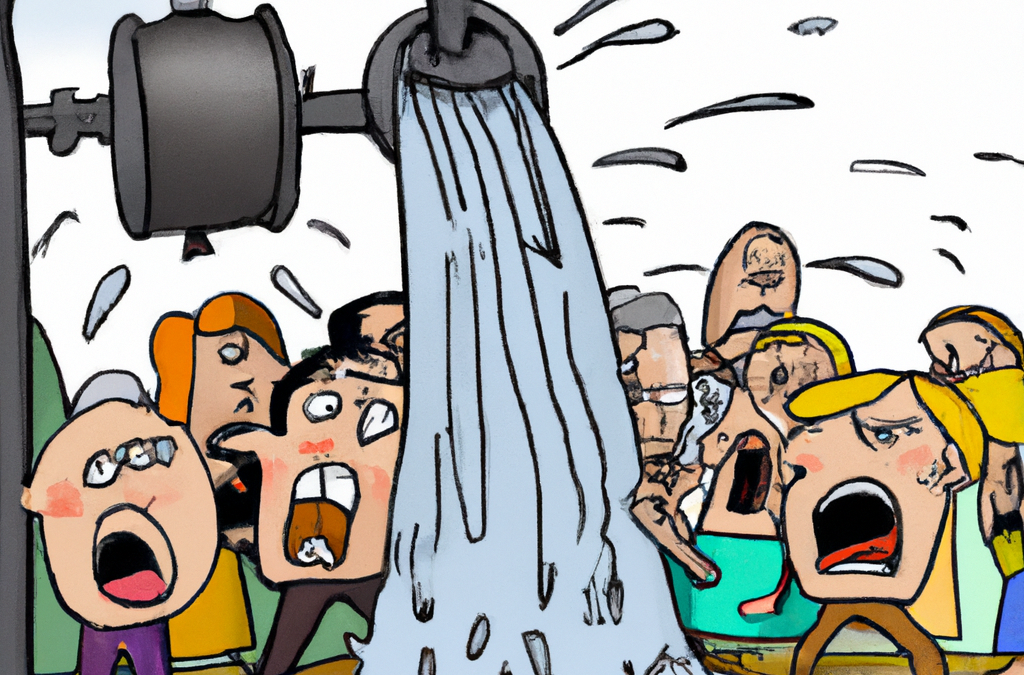 What is a water surge or water hammer?
At Whywait Plumbing, we understand that a water surge or water hammer can be frustrating and potentially damaging for homeowners. That's why we're here to explain the problem in simple terms and offer solutions for preventing and resolving it.
Water hammer or water surge is a common issue in any system that utilises pipework, valves, pumps, and other equipment to control water flow or other liquids throughout a building.
One of the most common causes of a water surge or water hammer is the rapid closing of a valve. When a valve is closed quickly, water hits a dead end, sharp bend, or any other situation that creates a high-pressure shockwave to travel through the pipework, causing a loud banging noise and increased pressure. This can damage pipes, fittings, and appliances and cause leaks.
Another common cause of water surge is a problem with your pressure pump system. If your pump is malfunctioning, it can create a surge of pressure that can cause the same issues as a rapidly closed valve.
 The effects of water hammer can range from a loud knocking or banging noise in the pipes to more severe issues such as broken pipework. However, the risks posed by water surge are particularly significant in high-rise buildings.
High-rise buildings are susceptible to water surge
Most high-rise buildings have at least one riser that runs from the basement to the top floor and connects to smaller distribution pipework on each floor. Suppose a pump stops operating, for example, due to a power cut or a fault in the system. In that case, the water pressure in the building gradually declines as outlets are opened, and the remaining water in the system is drained under gravity.
This can create a vacuum in the pipework, depending on whether there are non-return valves or pressure-reducing valves installed in other parts of the water pipe reticulation system. When the power is restored, and the pump begins to operate again, it restores system pressure to pre-set levels. However, if the unit is not designed, installed and maintained correctly and does not have a comprehensive "soft fill mode", the water hammer or water surge will be almost unavoidable.
In the worst-case scenario, pressurised water is pushed into a vacuum, causing the water to accelerate beyond expected design velocities. This can be due to multiple pumps running or pumps that are designed as "standby". This results in a hydraulic shock to the pipework that can be beyond the operating pressure of the system, potentially causing weak pipework or connections to burst, resulting in flooding and expensive water damage within the building.
Not only is this expensive to repair, it means downtime to the building's water supply. It is also a severe health and safety risk to those occupying the building during the burst.
To avoid these issues, it's essential to take the necessary precautions. One solution is to ensure that you have a booster set with a surge protection feature, so when the pumps are powered back up, they are limited to one pump and gradually increase their pressure to avoid ramping up too quickly. In addition, an AWSPV valve or an Air and Water Protection Valve can be installed at the top of each riser. This device not only avoids vacuum being created, but it also forces air through the "anti-surge" orifice when the system is filling, allowing for the deceleration of the incoming water supply, thanks to the resistance created by rising air pressure in the AWSPV valve.
This softens the potential pressure spike when the AWSPV valve finally closes. The AWSPV valve design ensures effective de-aeration under all pipeline flow and operating conditions via one of three discharge orifices. Once the system is full and free of air, the valve seals and must be piped to a drain or safe area to ensure any leaks are discharged to a visible position. This ensures that everything is visible without causing further water damage.
In conclusion, a water hammer or water surge is a common issue in any system that utilises pipework, valves, pumps, and other equipment to control water flow throughout a building. High-rise buildings are particularly at risk due to the potential for a vacuum to be created when the water pressure is restored, which can cause a surge in water pressure and potentially cause damage to the pipework or connections. By taking the necessary precautions, such as ensuring a booster set with a surge protection feature and installing an Air and Water Protection Valve, you can avoid these issues and ensure the safety and reliability of your building's water supply.
Proactive prevention you should implement
To prevent water surge, it is crucial to have your plumbing system regularly inspected and maintained by a professional plumber. This can help identify any potential issues before they become a problem.
Even in your traditional home, installing a water hammer arrestor, a device that absorbs the shock wave created by a rapidly closed valve, can help prevent water surge or water hammer from occurring.
If you have doubts about whether you are experiencing a water hammer or a water surge in your home or your high-rise building, don't hesitate to contact the experts at Whywait Plumbing. Our team of experienced plumbers can diagnose the problem, offer solutions, and get your plumbing system back to working correctly. Whether a simple adjustment or a complex repair, we have the skills and expertise to get the job done right.
At Whywait Plumbing, we are experts in protecting you from water surge or water hammer. We can help you understand the causes of your problems and recommend the best solutions for your home or high-rise building. Contact us today to schedule an appointment.