Gold Coast Tap Repairs, Tap Upgrades & Tap Replacements
Annoying dripping taps, leaking taps, faulty electronic sensor taps, broken taps, replacement taps, mixer taps, filter taps, broken sink spouts, broken shower heads are common tap repairs. We will fix all your taps or install your new upgraded taps professionally 7 days a week!
TAP REPAIRS ENQUIRIES
For same day service for tap repairs call (07) 5580 4311. For non-urgent repairs feel free to send us your details.
GOLD COAST TAP REPAIRS
Broken Taps, Sensor Taps, Filter Taps, Leaking Taps – We Have The Tools On Hand To Fix It Immediately!
WE CHARGE BY THE JOB NOT THE HOUR TO SAVE YOU TIME & MONEY!
Dripping taps? Broken Tap? Need to upgrade your taps? Don't let your leaking tap turn into an emergency call-out, contact Whywait today.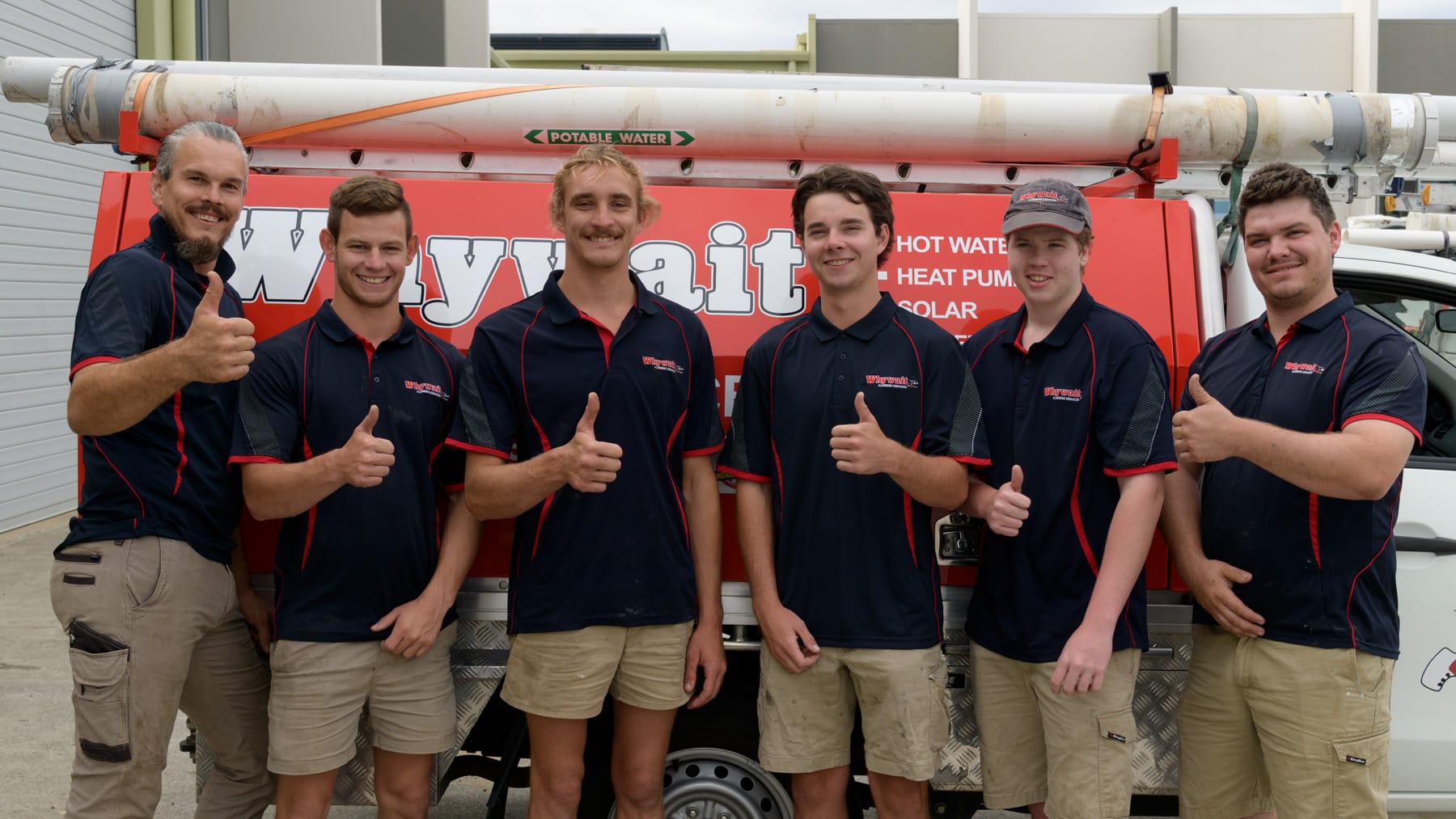 A dripping tap will never go away…..in fact, it will only ever get worse!
Why? Because a dripping tap is a tap that is falling apart internally. That drip will turn into a running tap that you cannot turn off, no matter how hard you tighten it.
Ignoring leaking taps can have unseen ramifications such as damage to kitchen or bathroom cabinets that leads to water damage to internal walls, ceilings and floors.
"A continually slow leaking tap or water leak will easily waste up to 10 litres every hour. That's 240 litres a day, 1680 litres a week, 7280 litres a month or 87360 litres a year." 
How Much Does A Continually Slow Leaking Tap Cost You?
If you look at how much that dripping tap will cost you, it's scary. Because it's $1.02 a day, $7.14 a week, $30.94 a month or $371.28 a year.
Now that's a lot of water and money wasted every day. And at the end of the day, the tap will still need to be repaired or even replaced if the internal damage is too great.
Repairing a mixer tap is not a DIY hobby repair
The Urban Myth of Replacing A Tap Washer
The tap washer inside a traditional spindle style combination tap is but one part of the tap. The urban myth that we as plumbers only need to replace the tap washer which can be done in 5 minutes is a complete and utter fallacy.
FACT: "No professional plumber should ever just replace a tap washer without dismantling the tap and identifying all the defects in the tap that increase with use and age."
The traditional spindle style tap has 3-5 different washers inside the tap. Besides the washers, there is a possibility that the spindle is worn and requires lubricating or the seat is pitted and requires reseating.
Only professional plumbers are trained and licensed to fix a leaking tap and undertake accurate tap maintenance that consists of: 
turning off the water supply (don't laugh many DIY handymen forget this step)

dismantling the tap in its entirety to remove every washer and seal

checking the tap seat and reseating as necessary

cleaning the spindle and applying new tap lubricant

installing all-new washers, seals and gaskets

reassembling the tap and reinstalling

turning the water back on to flush the tap and test it
 Google Review
"READ ENTIRE – 

We had Whywait come out about 3-4 weeks ago for constantly dripping shower almost to the point of running water They arrived in time frame we were available
Price was $245 inc the $66 call out I was shocked at price when I got emailed receipt later BUT they explained everything as it wasn't a straight washer change as we thought…. the shower still dripped but we thought it may have been due to new items although it was managing to make bathroom floor wet occasionally and slip hazard due to an injury
Fast forward to Nov 9 2020 my husband phoned regarding still dropping and got Brad Bare in mind the was a late notice call to them …. Brad gave a 5hr window understandable due to short notice Our plumber turned up I think in about AN HR !! (GREAT) he was here about 20 minutes i think and fixed the issue
He was fantastic! THANKYOU, he explained about some pipe in wall and he had done what he could 1st time around and that what he has done will not fix forever but give us some time about a yr He went through what needs to be done and it will be a lot to fix
The service is good and reliable and not many ppl would come back 4wks after and fix again at NO COST TO US (thankyou again) The taps are also not as hard to turn on and off after yesterday as well.
I think b4 ppl complian about the company look at what u are getting done they are RELIABLE & HONEST "
Our service trucks are fully stocked to carry out tap repairs fast
The plumbing technicians at Whywait Plumbing will fix or replace your taps or stop the tap leaking same day, guaranteed.
Traditional combination hot and cold leaking taps are commonly caused by tap washers deteriorating and tap seats becoming cracked or gouged. Once a tap begins to drip, over-tightening of the taps will eventually lead to further deterioration of the tap seat that creates a worse drip.
Mixer taps commonly leak from their internal cartridges. Our plumbers carry generic cartridges that fit multiple brands of mixer taps manufactured in China.
Remember not every tap can be repaired, but our plumbing technicians bring with them a huge variety of tap spare parts to enable us to repair most taps on the spot.
With the huge variety and amount of imported taps available in Australia sometimes we have to order in replacement parts. If your tap cannot be repaired on the spot then frequently we will carry out temporary repairs until we get the parts in stock.
Whywait service trucks are stocked with a range of high-quality taps that have as standard a FIFTEEN YEAR WARRANTY for those instances where the tap cannot be repaired and replacement is required.
 Google Review
"Nathan, the plumber we had come to our home was on time, very respectful and eager to ensure the job was completed to our satisfaction. A rare quality today."
Professional Tap Repairs
Tap repairs can range from fixing simple leaking taps to replacing a broken tap.
In some instances, tap spouts can become clogged with mineral deposits in the strainers. As a result, the tap suffers from low water pressure or spraying from the spout. In some cases, you may only need tap maintenance of the spindle assembly of the tap. These types of repairs are relatively straightforward for Whywait's licensed plumbers to undertake.
If you have a damaged mixer tap with water flowing continuously, it is generally a more serious issue that can lead to bigger problems if not attended to quickly. In this situation, you may wish to turn the water off at the water meter until our plumber arrives.
Regardless of the issue with your taps and the level of work required, you can count on Whywait Plumbing to resolve your leaking taps fast. Our licensed plumber will diagnose the problems and offer the best plumbing solution for your situation with upfront pricing.
Stop Leaking Taps Fast with Whywait Plumbing
If you have leaking taps in your home or business, you should get them fixed right away. A leaking tap can lead to litres of wasted water over a short period. A slow single drop of water per second can result in 20,000 litres in a year. That's enough to fill a domestic swimming pool.
Leaking taps can also damage your cabinets, walls, ceilings and flooring. Continually dripping water can cause hard-to-remove stains to porcelain and stainless steel. Save yourself the trouble and have the tap fixed as soon as possible by a professional plumber from Whywait Plumbing.
Common Leaking Tap Guidance & Advice
How Much Does A Tap Dripping at 1 Drip Per Second Cost You?
If you look at how much that tap dripping every second will cost you, it's scary. Because it's $0.17 a day, $1.18 a week, $5.11 a month or $61.33 a year. Now that's a lot of water and money wasted every day, especially if you have three or more taps dripping. And at the end of the day, the tap will still need to be repaired or even replaced if the internal damage is too great.
Mixer Tap Repairs
Mixer taps have been available since 1972 and were expensive. In recent years they have become affordable to install in new homes and renovations.
Like everything you get what you pay for and mixer taps is certainly a testament to that saying. Many imported mixer taps are very cheap but also they are not repair friendly with spare parts being unobtainable.
Every Whywait service truck carries spare parts for mixer taps. Increasingly we are now carrying a larger range of replacement mixer taps for the kitchen, bathroom and laundry so that we can replace your broken mixer tap immediately.
Should I Turn The Water Off?
If you do have a broken tap and as a result there is an unstoppable loss of water it is best to turn the water off.

Gold Coast Tap Repairs
For plumbing & gas emergencies please call (07) 5580 4311 for rapid response service. For all other plumbing repairs feel free to email us for assistance.
Need A Plumber To Repair Or Replace Your Tap Today?
At Whywait Plumbing Services our plumbers and gas fitters are here to assist you whenever you need us. Call anytime, we always answer your call!
CALL (07) 5580 4311 ANYTIME