Your Fridge Water Connection Is A Specialist Plumbing Installation Task
We are specialists in installing all makes and models of fridge water connections. We install all the plumbing required to give you a safe, compliant water supply plus connect your ice maker and chilled water unit.
FRIDGE WATER CONNECTION ENQUIRIES
For all same day service call (07) 5580 4311. For non-urgent repairs feel free to send us your details.
Your Fridge Water Connection Is A Specialist Plumbing Installation Task
We are specialists in installing all makes and models of fridge water connections. We install all the plumbing required to give you a safe, compliant water supply plus connect your ice maker and chilled water unit.
7-DAY SERVICE GOLD COAST, TWEED & LOGAN
A water connection is needed to connect water to a fridge
Having water connected to your fridge is now common. Every major manufacturer has a range of models that feature fully plumbed in ice dispensers and chilled water dispensers.
Fridges with built-in water dispensers first appeared on the market in the late 1990s. These first models were expensive and the uptake was not overwhelming.
By 2015 fridges with ice makers and chilled water dispensers from Samsung and LG had focused on improved technology in their fridges. They were often difficult to install without a major kitchen remodel as there was never a water connection plus the space for a standard fridge was insufficient.
It is now common practice for all new homes to have a cold water supply point behind the fridge space or in an adjacent cupboard.
Older homes do not have a water connection near the fridge which can necessitate running a cold water pipe through cupboards, through the ceiling or down walls.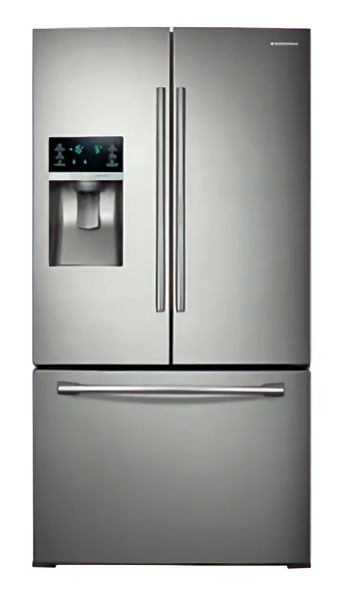 Connecting a fridge to an existing water supply tap
If you have a new home or a home that was constructed after 2015, the likelihood is you already have a tap installed specifically for your fridge.
The tap will usually be a small chrome tap on the wall behind the fridge cavity or in the cupboard beside the fridge.
In Australia, all the manufacturers supply you with the water connections and the filter when you buy a new fridge. There should be no need to purchase an accessory kit.
If you have the tap already connecting up the water hose that comes with your fridge is a straightforward task as long as you follow the instructions.
The photo above illustrates the standard chrome tap left for you to connect your fridge too.
Often they will have a cap screwed onto the outlet to prevent them inadvertently being turned on and flooding your house.
If you can't find the tap or are unsure how to connect up your fridge then contact us for expert advice.
 Google Review
"I've used "Why Wait Plumbing's Services" for both my small business and home, they're brilliant! Their staff are friendly, knowledgeable and reliable. Their prices are comparable to other companies. Thank you to Nate, Dave & Brad."
Having a fridge water connection installed
If your home does not have an existing fridge water connection tap, don't buy a fridge that needs water until you get us to check how you can connect to your cold water supply.
As long as the fridge cavity space is big enough for a water dispensing fridge, then the likelihood is we can get a water supply to it. However, it is worth getting us to check first as there are instances where it is impossible to connect to the cold water supply.
There are multiple possibilities to connect to water, such as:
connecting to the sink tap cold water pipe and running a new pipe through the cupboards to the fridge cavity

locating the cold water supply in the ceiling and running a new pipe through the ceiling and down through the wall cavity to the fridge cavity

connecting to a cold water supply outside the home and  running a new pipe through the ceiling or wall cavity to the fridge cavity
Installing a new fridge water supply connection is never a DIY job
Employing an unlicensed handyman or doing it yourself to run a new cold water pipe to a fridge is not only illegal but can be dangerous.
A fridge water connection frequently requires a reduced pressure zone device installed to prevent the fridge from being damaged by excessive water pressure.
Yes, a new water supply pipe and associated valves can be expensive. The reality is using a licensed plumber to install your fridge to the cold water supply is an investment that protects your families health and avoids fridge warranty complications. Doing it yourself or employing an unlicensed handyman can null and void your homes insurance coverage plus void your fridge warranty.
Our plumbers are specialists in fridge plumbing and ice maker fridge installations. We ensure your fridge has a fully compliant water connection that is fully guaranteed to function as per the requirements of the fridge.
We frequently are called upon to repair a DIY or handyman installation that either leaks or does not work because:
the water supply was connected to hot water instead of cold water

the water supply was connected to recycled water instead of the potable water

the wrong fittings are used that either burst or leak

the incoming water pressure is too high and causes the fridge connections to burst

pressure zone devices are installed in reverse
While it may seem appealing to save money and install your own fridge water connection, this option can actually cause a great deal of stress for you in the long run. 
As you can see above, mistakes are easy to make if you install the fridge. Either DIY or a handyman installation can null and void your insurance coverage plus leave you potentially with an expensive warranty, legal and financial implications.
 Google Review
"

Really positive experience. Reasonably priced and on time. Nathan was professional, friendly and well presented. He went through all the potential costs and outlined exactly he planned to do so no expensive surprises. Will definitely use them again.

"
We are experts in installing your new fridge that has an ice dispenser & chilled water dispenser
Whether you need your new fridge connected to an existing purpose installed or need a completely new water pipe installed we do it all.
Your new fridge is a long term investment so that the plumbing that accompanies needs to be installed by an experienced plumber who follows the manufacturer's installation instructions.

DO You Need A Plumber to Install a Fridge Water Connection Today?
At Whywait Plumbing Services our plumbers and gas fitters are here to assist you whenever you need us. Call anytime, we always answer your call!
CALL (07) 5580 4311 ANYTIME
Fridge Water Connection Specialist Plumbers
For plumbing, drainage & gas emergencies please call (07) 5551 5193 for rapid response service. For all other plumbing repairs feel free to email us for assistance.