Gold Coast Solar Hot Water Systems Repairs, Servicing & Replacement Installation
We are Solar Hot Water Experts providing guaranteed 7-day service for Gold Coast solar hot water repairs, servicing & installation to all brands & models of solar hot water sytems. 
SOLAR HOT WATER ENQUIRIES
For same day solar hot water service call (07) 5580 4311. For non-urgent repairs feel free to send us your details.
GOLD COAST SOLAR HOT WATER SYSTEM REPAIRS, SERVICING & INSTALLATIONS
We are Solar Hot Water Experts providing Guaranteed 7-day service for all Gold Coast solar hot water repairs, servicing &  installation on all brands & models of solar hot water systems. 
Solar Hot Water Systems – Maximum Efficiency With Correct Servicing and Maintenance
Solar hot water systems need to be maintained to the manufacturer's instructions to maintain maximum efficiency. Whywait Plumbing Services have been specialists in solar hot water systems for installation and repairs as your local, reliable and professional Gold Coast Plumber for 43 years, since 1976.
Solar hot water has never been rocket science. In fact, it's simple science because the sun continually heats the water that is circulating through the solar collector panels which are then stored in a tank waiting for you to use it.
If you have any questions about solar hot water not covered below in the scheduled maintenance requirements for solar hot water systems, contact our friendly team – they'll be happy to help you. You can also check out our range of solar hot water systems and rebate information plus you can always phone us for a no-obligation solar hot water installation quote.
 Google Review
"After 7 phone calls to other "24 hour 7 day services", finally found Whywait Sunday morning. They answered the phone, diagnosed the problem and had my hot water system fixed promptly."
All solar hot water systems require servicing and maintenance to ensures that the systems are operating at peak efficiency. This not only increases their operational lifespan but ensures you are saving you money on energy costs.
Service and maintenance requirements of most solar hot water systems are not extensive. In reality, it is little different to servicing electric or gas systems as similar valves are a shared feature.
Solar hot water servicing with all of the access issues is specialist work because when a solar hot water system fails, it tends to be sudden, leaving you without hot water.
Solar hot water is a common hot water system installed on the Gold Coast. Whywait Plumbing has specialist technicians to service, maintain and install all solar hot water systems installed such as:
| | | |
| --- | --- | --- |
| ✔ Solahart | ✔ Rheem | ✔ Edwards |
| ✔ SolarArk | ✔ Beasley | ✔  Rinnai |
| ✔ Dux | ✔ Siddons | ✔ Aquamax |
| ✔ Conergy | ✔ Apricus | ✔ Aquatemp |
| ✔ Eco-Smart | ✔ Hills | ✔ Sun Ray |
| ✔ Esteem | ✔ Saxon | ✔ Solar Lord |
| ✔ Suntrap | ✔ Solargain | ✔ Bradford |
Solar hot water is not a new technology, it has been around for over 100 years. It is only in the last 20 years due to spiralling electricity charges that solar hot water has increased in efficiency and popularity.

Scheduled Maintenance Requirements for Solar Hot Water Systems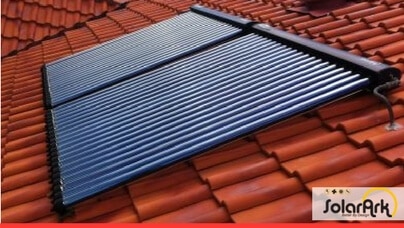 6 Month Regular Maintenance Service
Every solar hot water system has a pressure relief valve installed on the storage tank to prevent the system overheating and becoming excessively pressurised.
All manufacturers recommend that the lever on the relief valve be eased every six months to ensure that it opens and closes correctly.  This is something that you can do yourself although if your tank is on the roof, you need to take care of working on the roof.
It is also the ideal time to give the solar collector panels a clean with water and a soft cloth to maintain maximum heating efficiency.
12 Month Regular Maintenance Service
An annual checkup cannot be done yourself because all solar hot water systems have a high-performance tempering valve that delivers hot water to your home at 50ºC to ensure that the risk of your family being scalded is reduced.
As the sun is an uncontrolled heating source, the tempering valve on your solar hot water system is subject to operating extremes. For this reason, routine maintenance, servicing, and testing are required every 12 months as per AS 4032.3-2004 plus we issue you with a compliance certificate to cover you for insurance purposes.
5 Year Regular Maintenance Service
Every manufacturer recommends that your solar hot water system is serviced every five years.  This comprises of the following tasks:
Replacement of sacrificial anode
Flush out the panels to improve efficiency
Check all valves and replace as required
Check all electrical components and replace as needed
Check all panel connection seals and replace as needed
Wash down and clean storage tank and solar collector panels
We know solar hot water systems inside and out.  Which means we can help them run better, last longer, and provide you with the ultimate in energy savings with routine maintenance and repairs when you need them?
Solar water heating is a smart and efficient option, and we'll be happy to answer all your questions to help you maintain your system.
Do You Need A Plumber or Gas Fitter Today For Your Solar Hot Water System?
At Whywait Plumbing Services our plumbers and gas fitters are here to assist you whenever you need us. Call anytime, we always answer your call!
CALL (07) 5580 4311 ANYTIME
Solar Hot Water Systems
For solar hot water systems emergencies please call (07) 5551 5193 for rapid response service. For all other hot water repairs feel free to email us for assistance.