GOLD COAST TOILET REPAIRS, REPLACEMENTS & INSTALLATIONS
Leaking toilets, broken toilets, old toilets, toilets that don't flush, noisy toilets, broken toilet seats and so the list goes on for problems with toilets. Inevitably you only realise how critical your toilet is when it stops working. For same day toilet repairs call Whywait Plumbing to repair or replace that problem toilet.
TOILET REPAIRS ENQUIRIES
For same day service for toilet repairs call (07) 5580 4311. For non-urgent repairs feel free to send us your details.
YOUR #1 GOLD COAST TOILET REPAIRS PLUMBER!
If It's Toilet Related – We Fix It! Replacements, Repairs, Emergencies – 7 Day Service!
SERVICING GOLD COAST, TWEED & LOGAN
A Leaking Toilet Starts As A Slow Drip But Will Get Annoying Fast
Leaking toilet issues are frequently heard but seldom seen. The sound of a toilet cistern turning on and off at night, as it's leaking and refilling is one of the most sleep-depriving, annoying features of a leaking toilet.
A leaking toilet normally not an emergency, but it will not go away ever. If you are experiencing a sleep-depriving leaking toilet then get Whywait's experienced plumbers to rectify it by calling (07) 5580 4311 now.
All toilets have a variety of valves, seals, mechanisms and components that deteriorate as they age. From broken flush pipe seals to malfunctioning cistern valves, toilets are something you should get fixed ASAP when you notice a problem. A faulty toilet will never rectify itself.
A leaking and malfunctioning toilet cistern are generally one of four problems:
slow filling toilet cistern
a continuously running toilet cistern
a non-flushing toilet
a broken cistern tap
There can be other obscure toilet repairs issues as well, but these are the most common problems we encounter with toilet repairs.
 Whywait's service utes carry an extensive range of parts to repair most common makes and models of toilets. This includes cistern isolation valves, service pipes, inlet valves, outlet washers and rubber seals. In most instants, we can fix your toilet on the spot!
For all toilet repairs or replacements, call Whywait Plumbing on (07) 5580 4311. 
Learn To Identify Parts In Your Toilet Cistern
With so many toilet suites, toilets and cisterns now available in Australia, we cannot identify them all. But in reality, they all operate the same with a water inlet valve and a flush valve.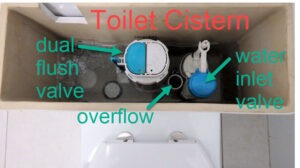 The photo above identifies the two main valves inside every toilet cistern. These valves exist in every cistern in varying configurations. Not every cistern has a separate overflow with some having the overflow built into the flush valve. Major issues with these valves are:
Water Inlet Valve

 

– this valve is always a float valve that automatically lets water into the cistern and can be installed on either the left or right side of the cistern. It is connected to an external cistern tap underneath the cistern usually with a flexihose but with chrome copper in older homes.
Dual Flush Valve

 

– this valve is what releases water as a half flush or a full flush into the toilet bowl when you push the buttons on the lid to flush the toilet.
Overflow

 

– obviously this is not a valve but ensures that water levels inside the cistern can never get too high and is a safety device to let excess water inside the cistern overflow directly into the toilet bowl.
Is Your Toilet Cistern Slow To Fill?
Frequently this will show up when toilet usage is at its morning peak. Usually, the cistern is so slow to fill that it cannot be flushed. Typically this is highlighting a defective water inlet valve, but it can also be the cistern tap or even a problem in the water supply.
Is Water Constantly Running Into Your Toilet Bowl?
Constant running water can be the ultimate annoyance. Often this is why your water inlet valve is turning on and off all through the night. As the water level in the cistern drops, so the valve activates. The water running into the toilet bowl is either from a faulty dual flush valve leaking or a faulty water inlet valve. Often it can be both valves is faulty and is leaking. To put it in perspective a toilet cistern can leak around 30 litres an hour which is 720 litres a day or 5040 litres a week which will cost you $21.23 a week.
Is Your Toilet Not Flushing Away The Contents Of The Toilet Bowl?
We all know this can be embarrassing, especially if you have visitors as it results in an unsightly smelly toilet. Generally what happens every user of the toilet is either multiple flushing and continuously waiting for the cistern to refill. A weak or low flush of water from the cistern can once again be both valves being defective. It is a faulty dual flush valve failing to operate correctly. It can also be a faulty water inlet valve being extremely slow to let water in or the water levels are set incorrectly. Often if not repaired you will end up with a blocked toilet.
Is Your Cistern Tap Defective?
Cistern taps are seldom operated which means they have a tendency to seize up. It is not unusual for them to drip from faulty O-rings and to cease up shut. They are easy to break as they age so be wary of forcing them to turn on or off.
Solutions For Your Leaking Toilet
Fortunately for you, most problems with toilet cisterns are repaired by our plumbers on the spot. In most cases, we are carrying replacement valves in our trucks to ensure an instant repair.
The worst-case scenario is that you will need to upgrade your toilet suite which of course Whywait Plumbing will do so as well after evaluating all possibilities and giving you a guaranteed upfront price.
If you are being woken at night by a running toilet or embarrassed by your toilet not flushing phone us now to schedule an appointment anytime.
Toilet Replacement
While we are able to undertake toilet repairs successfully and repair multiple issues, there are times that your old toilet or cistern simply cannot be repaired.
When this occurs, we offer toilet suite replacement with a new contemporary, low-flow, high-efficiency attractive toilet suite that will save water consumption while providing superior performance than your old, defective toilet and cistern.
With multiple brands and styles of toilet suites, it is easy to be confused. If you need to upgrade your toilet suite Whywait Plumbing will do so after evaluating all possibilities in what style will actually fit your existing plumbing and giving you a guaranteed upfront price.
"Was great to actually have a Plumber who answers their phone after hours. Brad was extremely helpful and knowledgeable. Would highly recommend their services."
Peter Ferguson, Google Review
⭐️⭐️⭐️⭐️⭐️