TAQUA WATER FILTER TAPS
Supplied & installed on the Gold Coast from $605
Turn On Your Sink Tap To Experience Safe, Clean, Delicious Water At Your Fingertips Every Day with a Premium Quality Taqua Built-In Water Filter Tap.
Whywait Plumbing has partnered with Taqua to provide you with Japan's best selling built-in filtration sink mixer. Filtered water directly from your kitchen sink mixer tap is now a reality.
Taqua is Japanese engineering at its finest producing filtered water from your tap. This revolutionary kitchen mixer tap is a pull-out spray with a water filter inside it. By building the water filter into the tap it eliminates the need for a separate water filter in your cupboard or on your bench.
Your body is 70% water and with a Taqua built-in filtration sink mixer you are providing your family with the healthiest and safest drinking water at the touch of a tap every day.
How The Taqua Water Filter Taps Work
Taqua's water filter removes free chlorine, soluble lead, small dirt particles and other impurities from your tap water.
Best of all, Taqua is guaranteed to retain the minerals in the water that your body needs.
Taqua transforms tap water into fresh, delicious water that tastes better and is safer to consume.
Taqua's unique filtration channel and automatic cleaning system work to filter a massive 4 litres of water every minute. The sterilising ceramic materials also keep bacteria out of the filter tap, ensuring the highest standard of cleanliness possible.
Actually, bottled water is exactly the same as tap water in terms of mineral content and hardness. Taqua's built-in filtration sink mixer removes the chlorine from tap water while retaining the minerals. Taqua provides you with fresh, delicious water in your home every day.
Comparison With Under Sink Filters or A Fridge Filter
Comparing Taqua Built-In Water Filter Tap with other styles of filter installations for your kitchen is valid. Space-saving is an obvious advantage compared to an under-sink style water filter plus installation costs, maintenance costs and filter replacements costs.
Below is a comparison chart with an under-sink filter and a fridge filter which highlights why a Taqua tap is a superior solution if you are requiring fresh delicious water in your kitchen every day.
Installing a Taqua Water Filter Tap
Installation of a Taqua water filter tap is a straight forward process. It really is a simple tap replacement and as the video below illustrates we can install a Taqua in any sink that has the water connections in the cupboard.
Taqua Water Filter Taps Delivered To Your Door By Buying Online
If you wish to purchase a Taqua Built-In Water Filter Tap directly for a licensed plumber to install we can supply to you by clicking on the buttons below. You can choose either a Taqua T-1 or a Taqua T-3 tap.
Taqua water filter taps have a warranty period of two years. You can extend the warranty of your product to five years by simply registering your details free of charge with Taqua here.
Filter Cartridges Delivered To Your Front Door With A Scheduled Online Delivery Service
The filters are simple for you to replace with replacement required every 3-4 months, depending on usage. With the Taqua Regular Delivery Service, a new cartridge arrives at your home at an interval of your choosing. You can opt-out of the service or start it back up again at any time.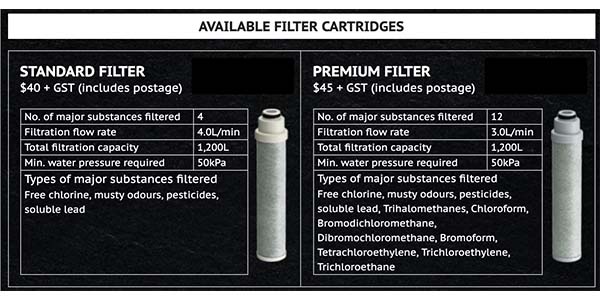 Taqua Water Filter Taps Enquiry
WE SUPPLY & INSTALL TAQUA WATER FILTER TAPS COMMENCING AT $605.00
Whywait Plumbing Service is proud to be the Gold Coast's distributor of Taqua. As licensed plumbers, there is no need for you to go anywhere else. We will supply and install your tap today, with 7-day service available.

Do You Need A Plumber To Install a Taqua Built-In Water Filter Tap Today?
At Whywait Plumbing Services our plumbers and gas fitters are here to assist you whenever you need us. Call anytime, we always answer your call!
CALL (07) 5580 4311 ANYTIME
Taqua Water Filter Taps 
Taqua Taps supplied & installed today from $605 email us for further information