Grease Trap Servicing & Maintenance Specialists
From grease trap servicing, remediation, replacement to relining grease traps Whywait do it all to keep your business running smoothly & hygienically, 7 days, every day.
GREASE TRAP SERVICING BOOKINGS
For same day grease trap servicing call (07) 5580 4311. For non-urgent repairs feel free to send us your details.
GOLD COAST GREASE TRAP SERVICING SPECIALISTS
FROM GREASE TRAP RELINING TO NEW GREASE TRAPS & GREASE TRAP SERVICING, WE DO IT ALL!
GOLD COAST, TWEED & LOGAN – 7 DAY SERVICE
Grease Trap Maintenance Reduces The Risk Of Lost Business From Grease Trap Blockages
Grease trap servicing from Whywait Plumbing will keep your business running smoothly. Maintaining your commercial grease trap is a legal requirement. A blocked grease trap is not only disruptive but an unsightly, unhygienic health hazard.
Don't Let Your Grease Trap Impact on Your Business
Disruption to business operations for a coffee shop, restaurant, cafe, hotel kitchen, commercial kitchen, shopping centre, theme park or any commercial business is an everyday threat caused by trade waste drains, pump wells and grease traps failing to perform that have critical business and financial implications.
The business disruptions that commonly occur due to poor grease trap servicing and maintenance are:
blocked trade waste drains due to a build-up of excessive fats, oils and grease

blocked trade waste drains due to the grease trap becoming clogged up with solidified fat and grease

sewer overflow inside the building due to a blocked drain or grease trap

offensive odour release both inside a building and outside

pump well pump systems failing due to the effect of fats, oil and grease on pump impellers
The cost to any business of this type of disruption due to poor grease trap servicing cannot be understated with cleanup costs, customer dissatisfaction, staff dissatisfaction, poor reputation to name just a few.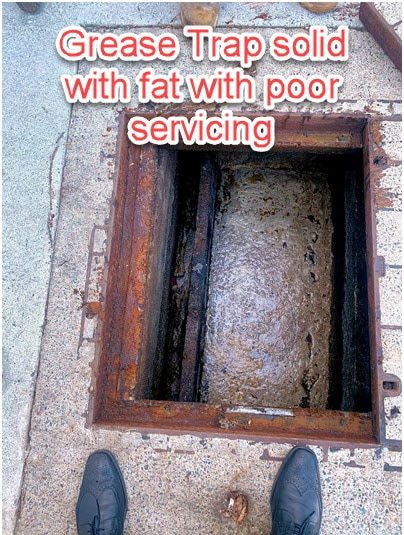 The Whywait Grease Trap Solution
Whywait Plumbing has a guaranteed grease trap servicing and maintenance solution, in a grease trap source control maintenance system. A solution that is purpose designed to every specific grease trap application.
Every grease trap installation and jurisdiction has differing requirements with governance,  maintenance requirements, sustainability and responsibility.
So a Whywait grease trap source control maintenance system enables every grease trap installation to be individually managed and maintained so that it:
eliminates blockages in drains and grease traps

eliminates offensive odour

managed and measured for future growth

managed proactively by the implementation of a management system that eliminates business disruption

guarantees accountability to reduce environmental and workplace incidents

a guaranteed proactive and supported solution to grease trap infrastructure assets
Proactive Grease Trap Servicing Solutions
The Whywait grease trap source control maintenance system is a proactive system that has at its heart a dependable, automated injection dosing system. This allows for convenient and dependable automated dosing of the grease trap drainage infrastructure at a predetermined schedule.
The automated dosing unit is installed as part of the trade waste drainage infrastructure to allow for easy access and to ensure dosing occurs throughout the maximum amount of infrastructure as possible.
Once installed the changes in the operating environment will be rapid and will ensure results and benefits previously thought impossible:
eliminate blockages and sewer overflows

eliminate offensive odour discharge

eliminate unscheduled grease trap pump outs

remove the risk of flood damage to people, property and infrastructure

add a layer of protection to workplace, health and safety compliance

remove the risk of environmental pollution
Solving Grease Trap Servicing Issues Is A Phone Call Away
Every Whywait grease trap source control maintenance system is purpose-designed to the specific grease trap itself. To accomplish the best results for your business contact Whywait Plumbing today on (07) 5580 4311 to undertake an on-site obligation free assessment of your existing installation and infrastructure.
We are your grease trap servicing, relining and rehabilitation specialists and can answer all your questions to help you make the right decision and that goes for all your plumbing needs!

Do You Need A Plumber To Evaluate Your Grease Trap Today?
At Whywait Plumbing Services our plumbers and gas fitters are here to assist you whenever you need us. Call anytime, we always answer your call!
CALL (07) 5580 4311 ANYTIME
GREASE TRAP SERVICING & MAINTENANCE SPECIALISTS
For plumbing & gas emergencies please call to ensure a speedy service. For all other plumbing repairs feel free to email us for assistance.