BACKFLOW PREVENTION TESTING
Whywait Plumbing is certified to carry out Gold Coast backflow prevention testing. Schedule your inspection today!
BACKFLOW ENQUIRY
For same day service call (07) 5580 4311. For non urgent testing or inspections feel free to send us your details.
Gold Coast Licensed Backflow Prevention Testing Services
Backflow prevention testing is an annual test that is legally required to ensure your properties testable backflow device is fully operational. City of Gold Coast will send you an annual reminder letter about having to have all your backflow prevention valves being tested.
Backflow prevention valves are installed in most commercial properties plus in homes where a potential cross connection can occur in the water supply.
Backflow prevention valves are installed to plumbing fixtures after a risk assessment. They are either testable or non-testable valves based on an assessment of risk of possible cross contamination.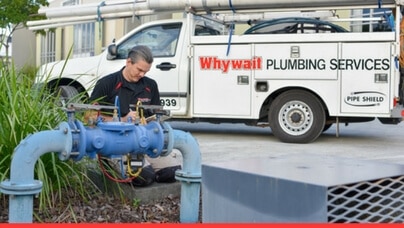 If you have testable valves then the Queensland Government requires City of Gold Coast to maintain a register of all testable devices in the city to protect the city's water supply from cross-connection contamination.
This is why you will receive a letter requiring annual testing as per AS/NZS 3500.1-2015 Plumbing and Drainage – Water Services under clause 4.4.6 Commissioning and Maintenance: Testable backflow prevention devices shall be commissioned and tested after installation and prior to service. They shall be maintained in working order and tested for operational function at intervals not exceeding 12 months. Reduced pressure zone devices, double check valve assemblies, pressure type vacuum breakers, registered break tanks and registered air gaps shall only be used with a maintenance program for device registration and test certification.
Backflow Prevention Testing Requirements
As a property owner you are legally responsible for ensuring a Licensed Plumber with a Backflow Endorsement undertakes the testing. Once we test your valves and undertake any compliance servicing required we will lodge a Form 9 compliance certificate with City of Gold Coast on your behalf.
Whywait Plumbing is fully licensed to undertake backflow prevention testing, servicing, installation, replacement and disconnection of the following valves:
RPZ valves which are a reduced pressure zone device (RPZD)
Double-check valve assembly (DCV)
Registered air gap (RAG)
Registered break tank (RBT)
Reduced pressure detector assembly (RPDA)
 Double-check detector assembly (DCDA)
Spill resistant pressure type vacuum breaker (SPVB)
Pressure type vacuum breaker (PVB)
City of Gold Coast do levy annual backflow registration fees every September on every registered testable valve installed. Currently the fees are:
Commercial buildings classes 2-9 : $97.00 per valve
Domestic buildings classes 1 and 10 : $25.00 per valve
"Used them again recently, awesome service as always and great friendly staff. Thanks for another great job well done!Great prompt, efficient service, friendly staff!"
Sylvia Johnston, Hirum Software Solutions
⭐️⭐️⭐️⭐️⭐️