Your plumbing hates you! It's a fact.
Your plumbing hates you because you show no respect for your plumbing systems. You routinely do hideously disgusting things to it, with it and into it.
You routinely ignore the needs of your plumbing systems to be given some tender loving care. You just assume your plumbing will always work for you as you desire.
Your plumbing literally sees you at your worst. As a consequence, it's always plotting revenge on you. Those gurgling sounds you sometimes hear when you flush the toilet is your plumbing waiting for the right moment to strike back in revenge.
The favourite time for your plumbing to strike back with a lethal attack is at Christmas or Easter when plumbers are scarce and have to charge expensive call-out rates.
That gurgling sound you hear when you flush the toilet is liquid evil
The most mistreated plumbing fixtures in any home are the toilet and kitchen sink. The toilet is the most abused plumbing fixture as it's considered a receptacle to dispose of anything and everything.
Describing gurgling sounds as liquid evil is a perfect description. The photo below illustrates perfectly why paper towels should not be thrown into the toilet.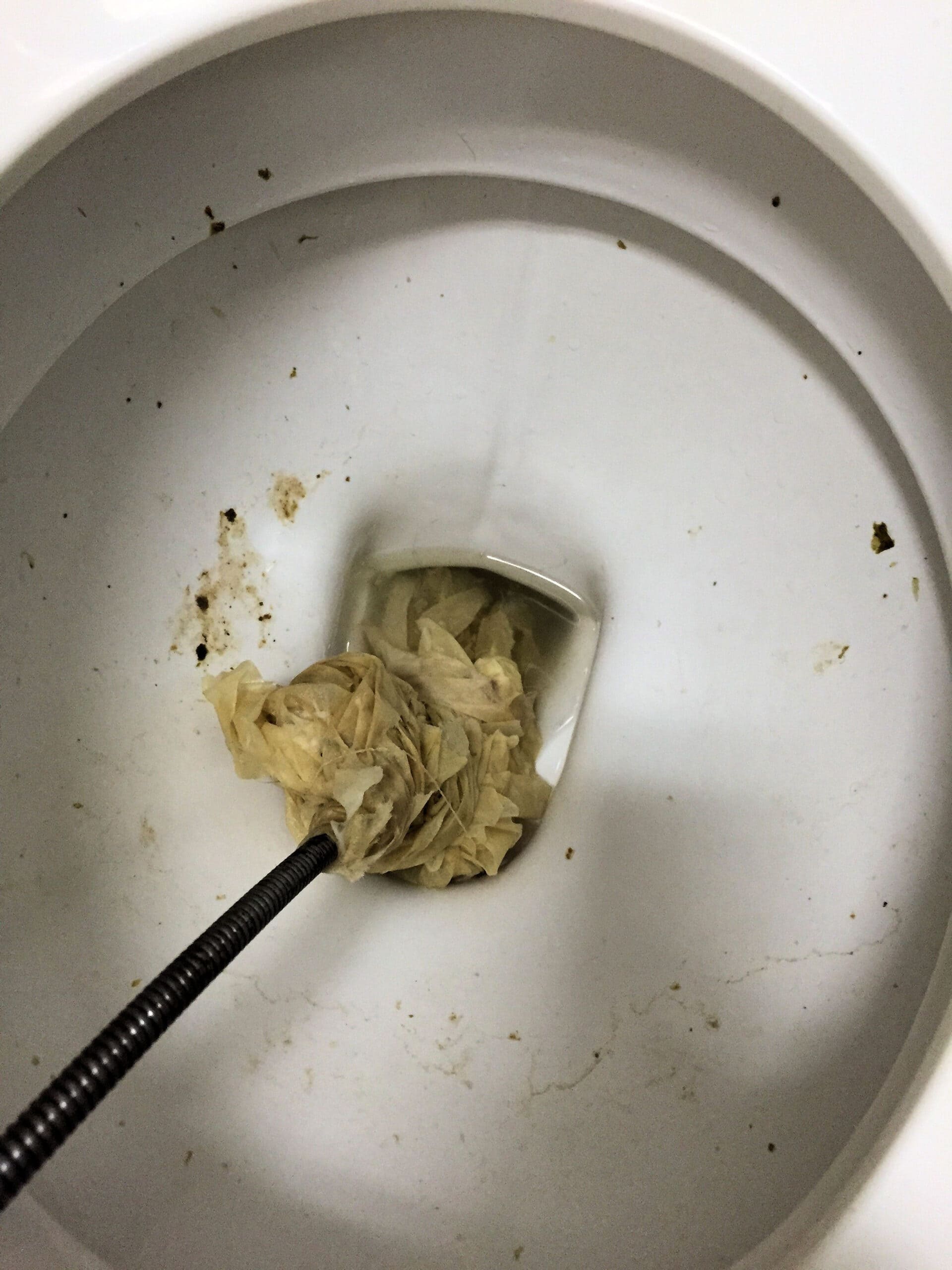 Paper towels as you can see are not designed to be flushed down a toilet. Paper towels are not designed to enter your sewer drains. If you choose to flush paper towels into your toilet the photo below perfectly illustrates why your plumbing hates you.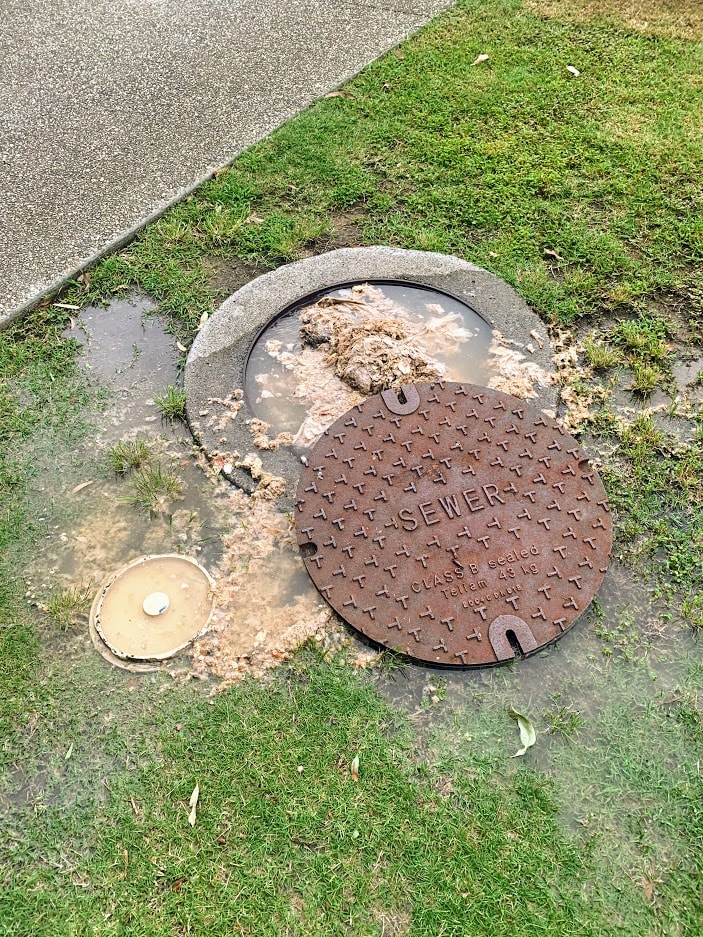 As you can see the plumbing systems had the ultimate revenge for the lack of respect. In this instant, the paper towels work their way through to the manhole and blocked the entire sewer drainage system.
The paper towels will frequently block your toilet pan but they can flush through into the sewer drain where they will slowly go down the drain until they jam against a junction or a point where flow is restricted such as in a manhole.
From there on the whole plumbing system will grind to a halt as the water from every drainage point in your house fills up the sewer drains.
Foreign objects that cause a blocked toilet are flushable wipes, paper towels, facial tissues, cotton tips, Q-tips, cotton buds, ear cleaners, hair removal wax strips, cotton balls, pantie liners, sanitary napkins and our old favourite of children's toys.
Gurgling drains don't clear themselves ever!
If your main sewer drains block, it doesn't take long for your homes toilets and internal drains to begin to back up.
Hopefully, your overflow relief gully works correctly, and the sewage overflows into your garden rather than inside your house. Either way, it's messy and yucky having to clean up sewage that has overflowed.
Blocked drains, whether backed up or overflowing, are not only inconvenient but can also pose a risk to your health.
Gurgling drains, smelly drains or slow draining sinks are all signs that your blocked drains need urgent attention.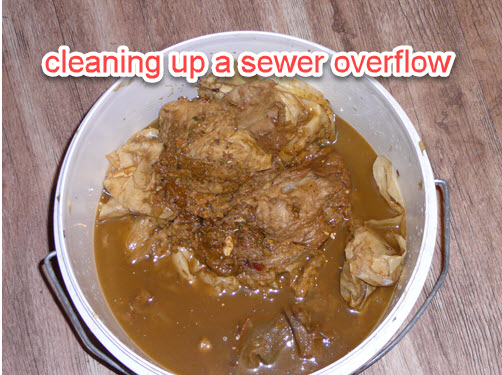 Plumbing problems are confronting
Solving plumbing problems can be a challenge for us as plumbers and you as a client. The reality is solving plumbing problems takes time, patience and, above all, experience.
Google searches do not make you into an instant plumber. In our experience, a Google diagnosis is generally wrong.
Regretfully many people associate plumbers with unpleasant events that they have experienced with their plumbing, such as a burst pipe or overflowing sewage that flooded their house.
Due to the emergency type situations that most people call a plumber out for, there are numerous misconceptions about what a plumber can do and cannot do quickly. In too many circumstances, this is aligned to the cost rather than the outcome which seldom solves the problem.
Your plumbing hates you since you have a lot of plumbing infrastructure 
Bear in mind you have considerable plumbing infrastructure that is out of sight and consequently out of mind. That is until it stops functioning.
The reality is 90% of your plumbing infrastructure is concealed in walls, under your floor, in your roof space or underground outside.
Below the photo of sewer drains, we installed at Southport Sharks illustrates what we face as plumbers when diagnosing your plumbing problems.
The sewer drains inside your house under the floor once installed are inaccessible as they are covered by concrete. To repair the drains is a significant cost in just accessing them coupled with rectification and then replacing the concrete.
Maintaining your plumbing infrastructure is an investment. In our experience, most unforeseen problems with your plumbing originate from when your home was originally constructed. As I've said many times these days, in reality, all buildings are constructed to a cost, not to the legal, regulatory standards of the
National Construction Code
 (NCC) administered by the
Australian Building Codes Board
 (ABCB).
The photo below illustrates how much work we have undertaken to repair broken sewer drains under your concrete floor. In this instance the work required was:
locate by CCTV drain camera the exact location of the broken pipes

cut the concrete slab with a quick-cut demolition saw

remove the slabs of concrete and dispose of off-site

excavate by hand to expose the sewer drain pipes

cut and remove the broken and crushed sections of the PVC sewer drain

install new PVC pipes with flexible joints

test the drain to ensure there were no leaks and it was fully functional

backfill and compact the excavation

drill into the concrete slab to install reinforcing steel to tie the replacement concrete to the existing slab

install a replacement concrete slab
Concealed plumbing infrastructure will always be expensive to repair
We understand how you can feel that your plumbing hates you when we have to undertake major work to repair plumbing infrastructure that is concealed in walls or under your concrete floor.
From our perspective, we know we are delivering bad news that you don't want to hear. The frustrating thing is that you frequently don't see all the work that goes into repairing a broken sewer drain as by the time we are finished there is literally nothing to see. The video below illustrates perfectly the repairs we undertook on a drain under a 50 year old stone wall and when completed you would never have known we had been there.
Proactive prevention is preferable to a reactive emergency
There will always be unplanned plumbing emergencies that you can never foresee. That is a simple fact of life.
But proactive preventative maintenance can eliminate the majority of potential plumbing emergencies.
This is why we recommend our Service Partner Plan© to all our clients. The annual audit is focused on locating potential problems before they occur.
Enquire today how you can simply be signed up to get extra benefits and service advantages in managing your properties plumbing, drainage, roofing and gas infrastructure.