Toilet blockages are more than an inconvenience!
How does a toilet block is a frequently asked question of our plumbers? Your toilet is after the kitchen sink the most commonly used plumbing fixture in your home. It goes without saying a blocked toilet is more than an inconvenience. For most people, a blocked toilet is an unpleasant experience that they don't have the stomach to deal with and calling a plumber is their preferred option. So how does a toilet block seemingly without reason and ruin your day?
How does a toilet block with foreign objects?
Adhering to the three P's rule of pee, poo and paper for your toilet ensure never having to ask how does a toilet block from foreign objects. 
Foreign objects are anything that is not toilet paper, urine or faeces. Toilet pans are not waste disposal units and are designed with one function, and that is to dispose of your bodily waste hygienically.
Toilet paper, despite some popular urban myths, does not block a toilet. Toilet paper is manufactured to dissolve in water and rapidly breaks down when you flush the toilet cistern.
In our experience, the biggest culprit and an absolute foreign object in a toilet pan are flushable wipes. Flushable wipes are anything but flushable and cause toilets and sewers to block up and create horrendous plumbing repair bills.
Other foreign objects we frequently see in a blocked toilet are paper towels, facial tissues, cotton tips, Q-tips, cotton buds, ear cleaners, hair removal wax strips, cotton balls, pantie liners, sanitary napkins and our old favourite of children's toys.
Tampons are frequently blamed for blocking a toilet or drain and yes they are a foreign object. The reality is that a tampon is too small and flexible to cause a toilet to block. We frequently see real estate leasing managers trying to blame a blocked toilet on tampons, but they are a visible symptom of the blockage, not a cause.
The best method of eliminating your toilet from becoming a rubbish bin is to keep a bathroom waste bin in the toilet or bathroom. It is also a good idea to train your children from an early age on what is safe to flush down a toilet bowl.
How does a toilet block in a toilet pan trap?
The reason there is water in your toilet is that the curved bottom part of the toilet is a trap.
The toilet bowl trap is literally what it says a trap.
The trap retains water in it every time you flush the toilet. The purpose of the trap is to prevent foul sewer odours escaping from the drains and entering your home.
Foreign objects are the primary cause of a blockage in the trap, especially if they are rigid and lodge in the trap outlet. In many circumstances, they can be dislodged and the blockage cleared by using a plunger. If you are attempting to clear it yourself with a plunger, let the water drain down before trying to plunge your toilet into preventing sewage water splashing onto your floor.
Toilet paper is frequently blamed for creating a blockage in the trap. In most circumstances, there is a foreign object lodged in the trap outlet that prevents the toilet paper from flushing away.
If you are experiencing frequent blockages to your toilet, then you have one of the following:
a toilet pan that was manufactured in the 1990s that was not compatible with the water flow from the cistern
poor quality toilet paper that is not breaking up in the water as required
an offset pan collar under the toilet that is restricting flow into the sewer drain
If you are experiencing this scenario, it is a process of elimination. The first thing to do is to try a different brand of toilet paper or even try limiting the amount of toilet paper being used. If that does not solve the blockages, then you need to have your toilet suite and drain connection checked out and possibly have it upgraded.
How does a toilet block from a blocked sewer drain?
Commonly the majority of blocked toilets are a symptom of a blocked main sewer drain.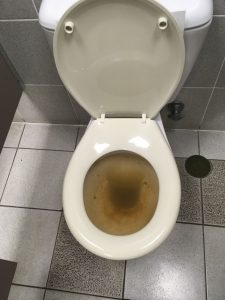 The toilet becoming completely blocked or slow to drain is because the sewer drains are full and there is nowhere for the water in the toilet to go.
If you have a blocked sewer drain, then all of your plumbing fixtures will cease draining. In this situation, plunging the toilet will achieve absolutely nothing. Worst of all, you will likely end up with sewerage all over your floor.
You were likely receiving warning signals from your sewer drain with gurgling sounds from the toilet, and it was slow to drain when flushed.
Gurgling sounds from any plumbing fixture should never be ignored as they seldom go away and should be investigated immediately if it continues to occur.
If you are experiencing regular blockages in your toilet or hearing gurgling sounds, then you need to call us on (07) 5580 4311 before you experience a complete shut down of your main sewer house drain system.