Noise from your bathroom pipes is not unusual
Squealing, shrieking, trickling, gurgling, splashing and banging noises are all sounds you're most likely to hear every day. Unless you go to exotic, interesting parties, these are sounds you hear in your bathroom every day. 
Considering 90% of your plumbing infrastructure is concealed in your walls or floors or ceilings or underground, it is frequently a struggle to pinpoint where the sounds originate.
In older homes and buildings, there is no sound insulation on pipes. The older the home, the greater the likelihood to hear all sorts of sounds emitted from your wall or ceiling. 
Splashing is the easy one to solve as that usually is the sound of children in a bath, making a mess of water all over the floor and walls. But that's easy to clean up and unless you slip it's not dangerous.
Below we will explore what phenomenon is occurring when those weird and bizarre noises occur when you're not in the bathroom?
A gurgling sound is usually an intermittent sound originating from your drains.
A while ago a client told me that their gurgling toilet was laughing at her in a mocking manner when she called me. This is a perfect description of a gurgling sound from sewer drains.
It is common for most gurgling sounds to originate from the toilet pan or the bathroom floor waste overflow. Less common is your overflow relief gully outside.
If you continually hear a gurgling sound, then the risk of damage is high.
If your toilet is slow to drain as in the photo below, followed by a series of gurgling sounds, then your risk level increases.
A slow draining gurgling toilet is either a partially blocked toilet or a blocked sewer drain.
If you continually hear a gurgling sound after the toilet is flushed or after a shower or when using your washing machine, the likelihood of having an overflow of sewerage outside in much greater. Even worse is the possibility of a sewerage overflow inside your house, usually out of the bathroom floor waste overflow.
3 : Diagnosing a gurgling sound :
A gurgling sound is basically your sewer drains having an asthma attack as they are blocked and struggling to breathe.
The gurgling is a cry for help. If you hear it once or twice then it goes away then you probably have little risk.
But if you hear a continual gurgling sound I recommend you call us before you have a disaster. Blocked sewer drains do make a mess and are not for the faint-hearted.
4 : Gurgling sound solutions :
Overflowing sewerage on your property or in your home or business is no joking matter that can be put off until tomorrow.
I categorically guarantee that Googling DIY remedies to unblock a drain only delays the inevitable as they rarely solve anything.
Blocked drains will never go away. To solve any blocked drain problem, you'll need our services to ensure the blockage is taken care of, both quickly and effectively.
Overflowing sewerage is both a health and a safety hazard to your family, employees, work colleagues and neighbours.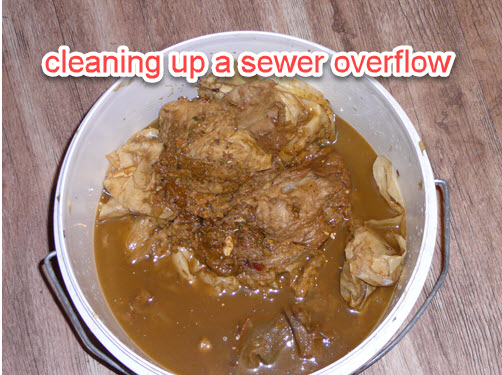 As a rule, high pitched squeals or shrieks originate from your taps but they can also be transmitted through your pipes from valves at your hot water services.
They almost always occur when you are using a tap or the toilet cistern is refilling after having been flushed.
Squealing noises always sound much worse at night and frequently occur when a family member flush a toilet.
 Most of the time there is minimal risk of damage.
For the most part, the squeals and shrieks are an irritant. As with most plumbing issues, they will not go away.
Reality is that they will increase in intensity the longer the problem remains unresolved.
3 : Diagnosing squealing sounds :
Squealing taps usually require tap maintenance as it will be worn washers or O rings plus lack of lubricant in the spindle.
If you have mixer taps then there is likely a problem with the mixing cartridge.
If it originates from your toilet cistern the problem will be either the cistern tap or water inlet valve.
Transmitted noise from hot water valves can be the most frustrating to locate and repair as you will have at least five valves that can be squealing. 
4 : Squealing sound solutions :
 If you taps are the source then you can try replacing the tap washer yourself. If that doesn't solve the problem then call us in to investigate the origins of the sounds as the tap will require comprehensive tap maintenance.
Stripping and replacing mixer cartridges is not for beginners and is not a recommended DIY task.
If you have squealing hot water valves then definitely call us because I guarantee the problem will only get worse and potentially damage other valves. 
Annoying is the best description of banging pipes or what we refer to technically as water hammer.
Unfortunately moving water in copper pipes always has the potential to create sound.
The most common loud bang will come from a tap being turned on or off although they can diminish after the tap is turned off. If you hear sharp banging or hammering then in all likelihood that is your copper water reticulation pipes.
 Ignoring banging sounds is definitely a risk.
Water hammer has the potential to flood your home as it can potentially break pipes or damage flexihoses, fitting, taps and appliances.
3 : Diagnosing banging sounds :
Sharp banging or hammering is normally a result of faulty taps or broken tap washers or poor clipping of pipes.
All of these causes can be accentuated by excessive water pressure.
If you hear a ticking sound that increases in intensity, then diminishes that is the sounds generated by pipe thermal expansion and is often heard throughout the house.
This is caused by the pipe heating up when the hot tap is turned on as the hot water replaces the cold water and then cools down.
Water hammer tends to be highlighted in copper water pipes but still exists in plastic piping systems, but frequently it is diminished greatly as the plastic pipe absorbs the sounds.
4 : Banging sound solutions :
The banging from water hammer creates a shock-wave which creates enormous pressure moving at 1280 meters per second inside your pipes.
Your plumbing reticulation pipes, taps, valves and appliances are all susceptible to damage created by the impact of shock waves even if you hear no noise.
The noise is essentially an early warning system telling you to rectify the problem before damage occurs.
Water hammer is avoidable and can be rectified regardless of whether you have copper or plastic water reticulation piping. It is worth scheduling a call by us and getting your system checked to prevent damage occurring.
Overview of sounds from your pipes
The above descriptions is only an overview of sounds you will hear from your plumbing infrastructure.
In reality, there are also plenty of symptoms of plumbing issues that don't require funny or strange noises to originate from your bathroom but are quite obviously a problem.
Look for leakages and drips from taps and pipes.
Take note if the water isn't draining properly down the sink, the bath, the shower and especially down the toilet.
Look and listen always and if in doubt call us.