Hot Water Tempering Valves Regulate the Heat of Your Hot Water Delivery At The Tap
All hot water storage tank systems are storing hot water at between 60° C and 75° C. You need to be aware a severe hot water burn can occur in one second which is why annual tempering valve testing is not an option for the safety of your family.
HOT WATER TEMPERING VALVE ENQUIRIES
For same day service call (07) 5580 4311. For non-urgent repairs feel free to send us your details.
Hot Water Tempering Valves Regulate the Heat of Your Hot Water Delivery At The Tap
TEMPERING VALVE CERTIFICATION, INSTALLATIONS, REPLACEMENTS & EMERGENCIES!
7 DAY SERVICE GOLD COAST, TWEED & LOGAN
Annual Tempering Valve Testing & Certification Can Avoid a Very Serious Burn
Whywait Plumbing Services have been specialists in servicing hot water tempering valves as your local, reliable and professional Gold Coast Plumber for over 44 years, since 1976.
In Queensland, it is the law that hot water delivered to bathrooms used primarily for personal hygiene purposes be regulated by use of hot water tempering valves or a thermostatic mixing valve. This ensures hot water does not exceed 50° C when delivered from the basin tap, bath tap or shower tap.
Hot water delivered at 60° C takes one second to cause third-degree burns. Your tempering valve reduces the risk significantly with hot water delivery temperature from hot taps being 50° C.
The risk of scalding is far more significant for more vulnerable people, such as those with a disability, older people and children, as they may have a reduced reaction time and thinner skin thickness. In these buildings, hot water delivery temperature at every bathroom tap's outlet must be not more than 45° C.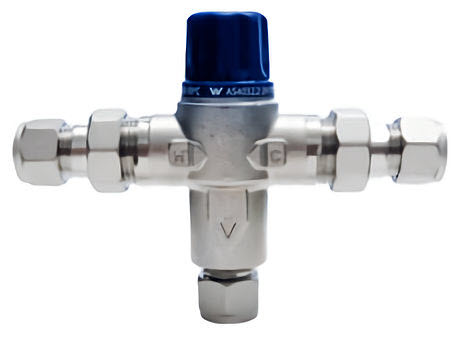 Protect Your Family From The Risk Of Serious Burns As Hot Water Burns Like Fire
At

 

60° C

 

a serious burn can happen in

 1 second


At

 55° C

 

a serious burn would take

 

10 seconds


At

 50° C 

a serious burn would happen after

 

5 minutes
Recent litigation has placed a 'deed of care' onus on licensed plumber's to ensure the safe delivery of hot water in domestic bathrooms used primarily for personal hygiene purposes.
Therefore tempering valves, which are carried in all Whywait Plumbing service utes, and can only be installed, tested and certified by a licensed plumber are mandatory requirements.

In 1995 the laws were changed requiring tempering valves to be installed when:
on any new hot water system installations covering new homes
replacements or when upgrading an existing hot water system
relocating an existing hot water system to a new location on the property
Homes built before 1995 will frequently still have hot water being delivered at 70°C plus.
Hot Water Tempering Valves are designed to blend hot and cold water to provide mixed water at a constant temperature. They incorporate a temperature sensitive element which expands and contracts depending on the temperature of the water flowing across it. This action of the element, in turn, moves a piston which shuttles between the hot and cold ports. In doing so, the valve maintains an essentially constant outlet temperature, and thus reduces the risk of hot water scalding accidents.
 Google Review
"I've used "Why Wait Plumbing's Services" for both my small business and home, they're brilliant! Their staff are friendly, knowledgeable and reliable. Their prices are comparable to other companies. Thank you to Nate, Dave & Brad."
Servicing, Testing & Certifying Hot Water Tempering Valves
All valves associated with a hot water service are subject to operating extremes which required periodic maintenance, servicing and replacement. A hot water tempering valve is at the upper end of any risk assessment and for this reason, requires regular field testing and maintenance regime as per the requirements of AS 4032.3 – 2004 which requires the frequency of field tests to be carried out at intervals not exceeding 12 months.
For plumbers, business premises, homeowners and property investors hot water is increasingly becoming a legal minefield with the duty of care provisions. Clarifications which existed in AS/NZS 3500.5-2012 no longer apply as that standard has been withdrawn. In its place, we have an ill-defined guideline in AS/NZS 3500.4:2021 in Appendix M below which provides guidelines for the operation and maintenance of a heated water system.
Heated water services should be maintained in accordance with the following:
(a)      Water treatment units Where installed, water treatment units should be inspected periodically to ensure proper operation.
(b)      Water vessels and tanks All vessels and tanks should be inspected and cleaned periodically, and in accordance with any requirements of the regulatory authority.
NOTE: The frequency of periodic cleaning depends upon the quality of the supply water, design, materials of construction and the pipe system. Combinations of materials giving rise to corrosion should be avoided.
(c)      Valves The following valves should be inspected periodically to ensure proper operation:
(i)       Temperature/pressure-relief valves.
(ii)      Expansion control valves.
(iii)     Thermostatic mixing valves.
(iv)     Tempering valves.
(v)      Other associated valves/devices
AS 4032.3-2004 Requirements for Field-Testing
From a legal perspective, it is the property owner's responsibility to ensure that routine maintenance is carried out. AS 4032.3 – 2004 specifies minimum requirements for field-testing, maintenance and replacement of thermostatic mixing valves, tempering valves and end-of-line temperature actuated devices. For property owners with tempering valves, this translates into the fact that in the event of a hot water scalding incident they must be able to verify that they have complied with the minimum requirements of AS 4032.3 – 2004.
For thermostatic mixing valves and tempering valves, the frequency of the tests must be every 12 months as per table 2.1 with testing and servicing undertaken as per appendix C as below.
C1 SCOPE
This Appendix sets out the sequence for determining the in-service performance of line strainers and non-return valves either integral with, or independently fitted in, installations of tempering valves, and of checking the temperature of water delivered to ablution points.
C2 PRINCIPLE
The valve is inspected, tested and maintained in accordance with Section 2.
C3 APPARATUS
The following apparatus is required:
(a)      A temperature measurement device in accordance with Clause 2.2.
(b)      Suitable tools and pressure gauges to perform the required work.
(c)      Any other apparatus that is recommended by the manufacturer of the device.
C4 PROCEDURE
The procedure to be followed shall be in accordance with the manufacturers instructions. The minimum inspection and testing shall include the following:
(a)      Strainer cleanliness.
(b)      Non-return valve operation.
(c)      Discharge temperature measured at the nearest ablution outlet to the valve for high and low flow.
(d)      Where practical to carry out the test, the cold water shut-off operation.
Where a device is not functioning in accordance with the application requirements, the problem shall be rectified or the device replaced.
C5 REPORT
The following shall be reported:
(a)      The model, manufacturer and identification of the valve.
(b)      Temperatures recorded during test.
(c)      Details of test, maintenance and parts replaced.
(d)      Location of the valve
(e)      Reference to this test method, i.e., AS 4032.3, Appendix C.
Tempering Valve Testing Report
For plumbers and property owners compliance with the testing requirements of AS 4032.3 – 2004 mitigates their potential legal liability risk in the event of a hot water scalding incident.
At Whywait Plumbing we ensure our qualified and licensed plumbing technicians are trained to test and maintain your tempering valve. The bottom line is that without an annual report you could be liable if anyone suffers burns from your hot water and even greater risk is that you may not have the protection of insurance coverage.

Do You Need A Plumber or Gas Fitter Today?
At Whywait Plumbing Services our plumbers and gas fitters are here to assist you whenever you need us. Call anytime, we always answer your call!
CALL (07) 5580 4311 ANYTIME
Hot Water Tempering Valve Plumbers
For plumbing, drainage & gas emergencies please call (07) 5580 4311 for rapid response service. For all other plumbing repairs feel free to email us for assistance.