We were happy and astounded that we received so much positive feedback about our September newsletter and blog on flushable wipes being an environmental disaster.
A few people felt the photos were a bit too graphic. But let me assure you there is no other way of illustrating what a flushable wipe looks like that is blocking up a drain or toilet.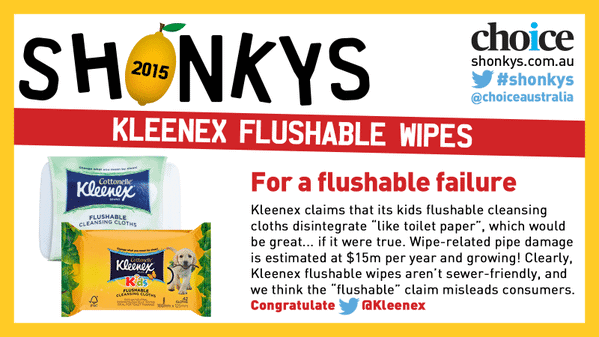 It was gratifying to see that a week after I wrote the newsletter about the disasters being caused by flushable wipes that Choice announced their 2015 "Shonky Awards" with Kleenex flushable wipes being one of the 8 "winners".
Like every other plumber worldwide we at Whywait Plumbing are continuing to see a horrendous increase in blocked drains due to the sky-rocketing popularity of these so-called "flushable" wet wipes.  
Unfortunately, the term "flushable" is a catchy phrase and a favourite sales pitch presenting an image of convenience and hygiene with the wipes being flushed down the toilet.
But the reality remains that the flushable wipes, once they are flushed down a toilet pan, do not dissolve like toilet paper. They stay intact, and these pieces of non-woven fabric when regularly used are blocking toilets, blocking house drains and blocking the City of Gold Coast sewer system.
It is positive that Choice has continued with their action to stop the sale of ipes labelled "flushable" by producing a very informative and graphic video titled "Flushable wipes – Are they flushable?"
But the facts are that flushable is assumed to mean biodegradable by consumers who love their convenience. As a result, when wipes are flushed down the toilet, there is a misleading assumption that the wipe will be the same as toilet paper and dissolve.
In fact, Choice surveyed 1679 Australians in July and asked: "If a pack of disposable wet wipes is labelled as 'flushable', would you expect the wipes to not cause any blocking or clogging of the toilet?" 
As we would expect 73% of those surveyed answered yes with 67% saying that they would expect flushable wet wipes to disintegrate "like toilet paper". 
Choice, as you can see in the video, put the flushable product claims to the test. They used an agitation device designed to provide an environment similar to your sewer drain system.
Choice put 12 brands of wet wipes made up of 11 which were labelled as "flushable" and one that was labelled "do not flush" into the agitator along with standard 4-ply toilet paper. The agitator then ran for six hours. 
The brands Choice tested that were labelled as 'flushable':
Sorbent Clean and Fresh Wipes
Sorbent Flushable Wipes – Kids
Kleenex Cottonelle Cleansing Cloths
Kleenex Cottonelle Flushable Cleansing Cloths for Kids
Confidence Adult Wipes
Woolworths Select Flushable Toilet Wipes
Coles Bathroom and Toilet Wipes
White King Flushable Bathroom Wipes
Vagisil Feminine Flushable Wipes
Harpic White and Shine Flushable Toilet Wipes
Naty by Nature Babycare Flushable Wipes
As expected the toilet paper started to break up within 90 seconds, then disintegrated entirely as required. All that was left was milky opaque water.
But all the wipes remained completely intact with no sign of them breaking up or losing any strength.
Choice is now running a campaign asking you to be a flush buster and wipe misleading claims off supermarket shelves. Click on the link below to register your support.
Trust me the only things that are flushable in your toilet are toilet paper, urine and faeces. 
I can only repeat if you wish to continue flushing wet wipes in all their forms down your toilet then I recommend you become a Whywait Plumbing Service Partner.