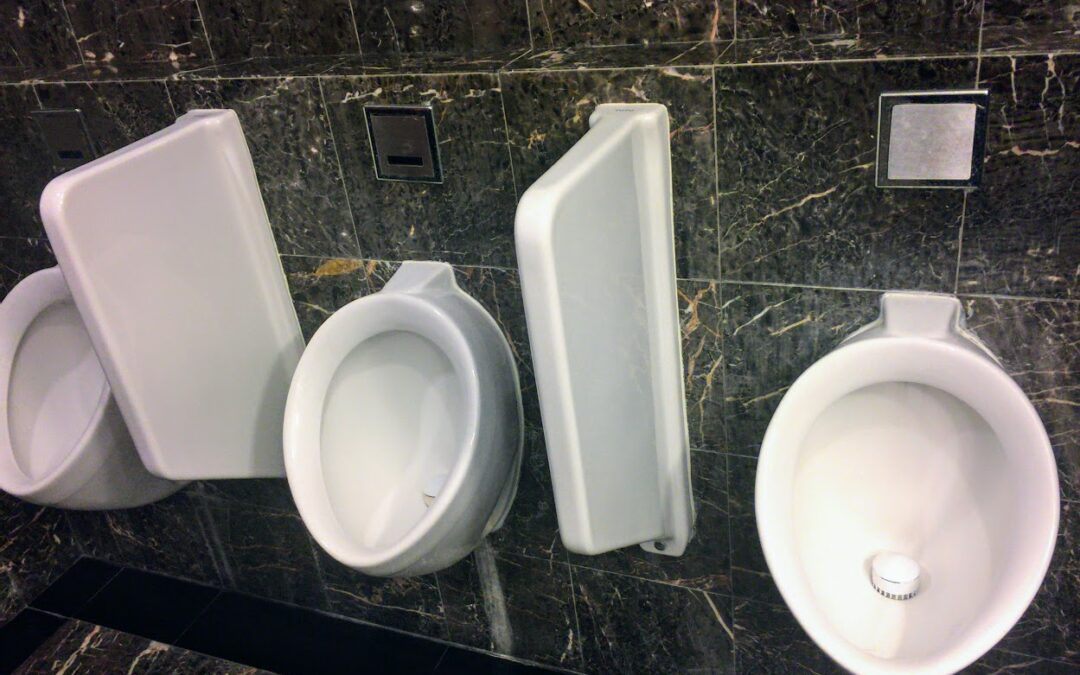 Urinal odours are not acceptable
Urinal odours are too often just accepted by commercial building managers. The reality is urinal odours should not be accepted as they are usually easy to rectify.
Solving urinal odours can be time-consuming if you don't employ an experienced plumbing company to investigate the cause of the odours. Seldom are the odours a urinal issue.
The first steps in solving that infamous male public bathroom are to pinpoint the source of the odour.
Once the source is located, then the best method for eliminating the source of the odour can be undertaken,
Your male bathroom facility should be odour free
Male public bathrooms that have the distinctive urine odour generally only have that "lovely" odour for four main reasons:
substandard air extraction and ventilation

substandard cleaning procedures

floor waste traps that are poorly maintained

urinals that are not regularly serviced and maintained
Substandard air extraction and ventilation
It is common practice for a public bathroom to have mechanical ventilation. Poorly performing ventilation systems that remove little air create hot and humid bathrooms.
A simple trick to check the extraction fans are working is to place a piece of toilet paper over the grate. If the paper is not sucked up into the grate and falls to the floor, you have a problem.
If you believe you have poor air ventilation, you need to have it checked over by your air conditioning service company.
Substandard cleaning procedures
Short cut cleaning procedures are the most common cause of urinal odours.
Frequently this is a result of poor cleaning and using cheap chemical cleaning products such as bleach.
Poor cleaning procedures are easy to detect with brown stains in and around the urinal. Usually, there will be urine stains on the floor as well because many males are bad shots.
Ensuring your cleaners receive training on cleaning urinals correctly will solve multiple odours and presentation issues in a public bathroom. Trained cleaner combined with using good quality urinal cleaning products such as Aquatemp Spray & Go Urinal Cleaner & Deodoriser will make a monumental change in eliminating urinal odours.
Odours emitting from the floors around urinals is common, especially with water flushing urinals. This is created by water mist combining with urine to settle on the floor in the tile grout. If the floors are not cleaned correctly, this bacteria will multiply continuously and rapidly. Cleaning the floors with specialist bathroom cleaning products such as Aquatemp No-Rinse Floor Cleaner, Sanitiser & Disinfectant will eliminate urinal odours in the floor tiles.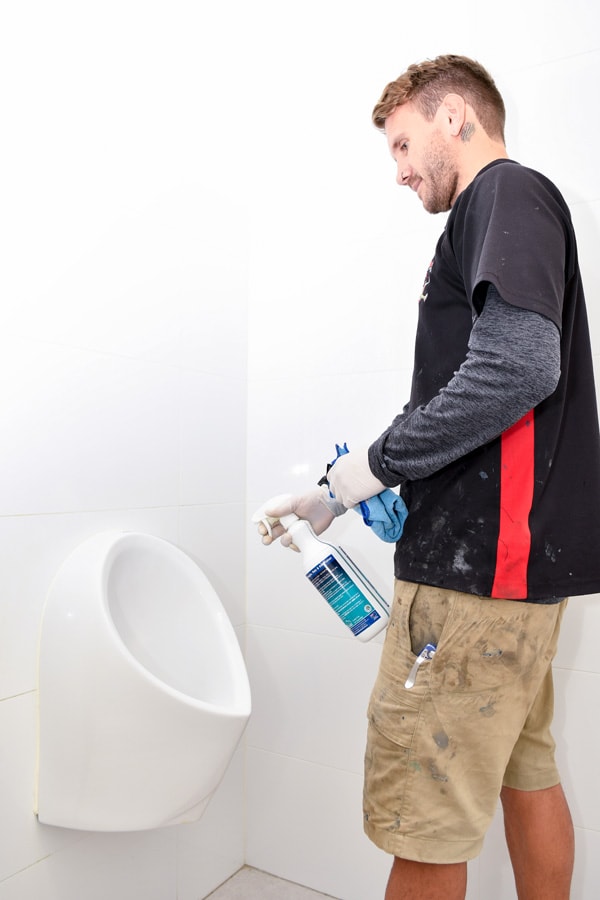 Floor waste traps that are poorly maintained
Floor wastes in a male public bathroom should only be connected to the basins. Disappointingly this is not always the case, especially in older buildings.
One of the first things to check when locating the source of urinal odours is to check that the urinals are not connected to a floor waste. If the urinals are connected to a floor waste, then you need to install a one-way valve into the floor waste to stop odour emissions.
Another common odour issue with floor waste drains is that the grates and pipe are never cleaned which allows bacteria buildup. Frequently this will be accompanied by poor ventilation which allows the odour causing bacteria to multiply and thrive.
Once again, this links back to correct cleaning procedures when cleaning the floors. That is why we recommend cleaning the floors with Aquatemp No-Rinse Floor Cleaner, Sanitiser & Disinfectant which will eliminate urinal odours in the floor tiles and floor waste grates.
Urinals that are not regularly serviced & maintained
Far too many building managers either fail to maintain their urinals or outsource their urinal servicing to cleaning and hygiene companies to reduce costs.
Not maintaining urinals only ensures you will create bigger problems at a later date.
Outsourcing urinal servicing to cleaning and hygiene companies is illegal as they cannot undertake any servicing work on urinals apart from cleaning them.
All urinals are required to be serviced and maintained correctly and legally compliantly as per the WaterMark certification for the urinals in accordance with the manufactures instructions.
Only plumbers are licensed to undertake urinal servicing by the Queensland Government plumbing regulator, the QBCC. The QBCC are legally required to protect public health and safety under Queensland's plumbing and drainage licensing system.
Once again far too many building managers will outsource urinal servicing to companies such as Desert Eco Solutions. Desert use cheap, inferior substitute parts which guarantee you will experience urinal odours.
Under Queensland law and the WaterMark approval system on all urinals, it is illegal to use substitute parts. These means any parts that are not the genuine WaterMark tested and approved components for each urinal model under their WaterMark approval.
How to prevent urinal odours
At Whywait Plumbing, we are specialists in ensuring your bathroom facilities and urinals are a healthy environment.
Our product range and specialised services ensure your urinals are compliantly maintained, hygienic, and an odour free experience for your employees and clients alike.
We guarantee that urinal odours can be eliminated by following simple cleaning and maintenance procedures.
Specialist urinal cleaning products