Flushable wipes are an environmental nightmare which is what I termed them in September 2015 when we here at Whywait Plumbing were seeing a horrendous increase in blocked drains.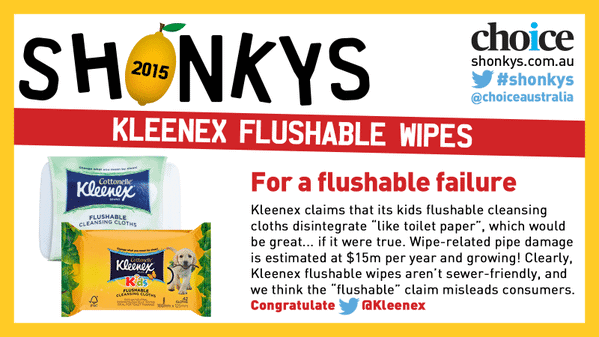 At the same time, consumer advocacy group CHOICE published the results of their dirty testing of "flushable" wipes and cleaning cloths in their testing labs. CHOICE came to the same conclusions that plumbers had long learnt and that was that "flushable" wipes were in most cases NOT FLUSHABLE.
Last year we promoted to Whywait Plumbing clients to join the CHOICE campaign to get rid of "flushable" claims on products that aren't safe to flush.
The worst offender in everyone's eyes was the Kleenex brand. In fact, the website for Kleenex Cottonelle Flushable Cleansing Cloths For Kids claimed that the cloths break up in the sewerage system like toilet paper. As a result of this claim, CHOICE put it to the test and found that while toilet paper dissolves in a few minutes but the Kleenex wipes held together for over 21 hours.
Kleenex has responded to the CHOICE campaign by releasing an allegedly new and improved "flushable" wipes product. As a result, CHOICE has tested this new product and found nothing has changed. Kleenex new flushable wipes will still block your drains because they do not disintegrate like toilet paper.
CHOICE is now advocating that you don't let your friends and family get caught by Kleenex and here's what you can do: 
When the CHOICE lab tests were widely published in all media last year, and the false Kleenex claims were exposed it sent a strong message to Kleenex. In fact, the message was so strong they apparently felt they needed to reinvent their "flushable" wipes.
But as CHOICE testing has found the "NEW" wipes are nowhere good enough to be considered safe to flush down your toilet. They are NOT FLUSHABLE, and they certainly do not disintegrate like toilet paper. As CHOICE states companies such as Kleenex need to deliver on their promises and should be prohibited from selling products that mislead consumers.
These Not-so-flushable Kleenex wipes put your homes sewer drains at risk of blockage still. As a community, we can and need to get these falsely marketed products off the supermarket shelves. That is why I urge you to tell your friends and family about the dangers of these dodgy Kleenex products to help keep your house drains, and the City of Gold Coast sewer drains flowing.