Back in September 2015 we here at Whywait Plumbing first alerted our clients in newsletters and blogs to the fact that flushable wipes were in fact not flushable. At the time we said flushable wipes are an environmental nightmare and we stand by that claim.
We have repeated over and over again that the only things that are flushable in your toilet are toilet paper, urine and faeces or if you like to adhere to the three P's rule of pee, poo and paper.
But as we all know a multitude of products labelled as flushable wipes or wet wipes have been claimed by their manufacturers that they could be simply disposed of by flushing down the toilet.
Last Thursday the first of the ACCC prosecutions against manufacturers Pental and Kimberly-Clark Australia had a positive result in the Federal Court of Australia.
The manufacturer of White Kings flushable toilet and bathroom cleaning wipes Pental Limited and Pental Products Pty Ltd was fined $700,000 for its continual false and misleading claims that their products disintegrated "just like toilet paper"  in the sewage system.  The ACCC has separate ongoing proceedings against Kimberly-Clark Australia.
White Kings products in labelling, packaging and promotional materials included the following misleading statements:
flushable
White King Toilet Wipes are made from a specially designed material, which will disintegrate in the sewage system when flushed, just like toilet paper
Simply wipe over the hard surface of the toilet … and just flush away
The Federal Court ruled all these statements were, in fact, false with ACCC Commissioner, Sarah Court stating, "These White King wipes can't be flushed down the toilet, and Australian wastewater authorities face significant problems if they are because they can cause blockages in household and municipal sewerage systems." 
This is a huge win for the sewers and house drains where blockages have been an ongoing issue creating $16000 plumbing repair bills for homeowners.
Here in Queensland Michelle Cull from Queensland Urban Utilities said it was a "real win" for sewers as "We remove around 160 tonnes of flushable wipes from our sewerage network every year. Laid end-to-end, that's enough to stretch all the way from Brisbane to Bali. We spend around $1.5 million a year clearing blockages from our sewer pipes and flushable wipes are a big contributing factor."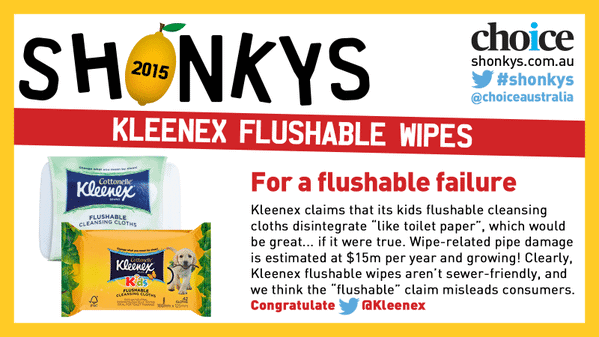 The campaign by Choice against flushable wipes has been an outstanding success. In 2015 Kleenex flushable wipes were an outstanding winner in their 2015 "Shonky Awards" which we highlighted in Flushable Wipes Win "Shonky Award" from CHOICE at the time.
On Thursday after the Federal Court, decision Choice spokesman Tom Godfrey reiterated that the false claims about flushable wipes were a "grubby marketing tactic that left households, local councils and water services organisations having to struggle with the cost of removing these wipes from the sewage system".
The $700,000 fine is a positive message to manufacturers and the water industry and plumbers are now hopeful the manufacturers of wipes products now prominently label DO NOT FLUSH on all their products.
The $700,000 fine also sends a positive international message as the water industry worldwide has collectively committed to a position statement where all wipes and personal hygiene products must be clearly marked DO NOT FLUSH and that they can only be disposed of in the rubbish bin.
Here at Whywait Plumbing, we hope this $700,000 fine reinforces to everyone that any wipe product is never flushed down the toilet. I can only repeat if you wish to continue flushing wipes in all their forms down your toilet then I recommend you become a Whywait Plumbing Service Partner.