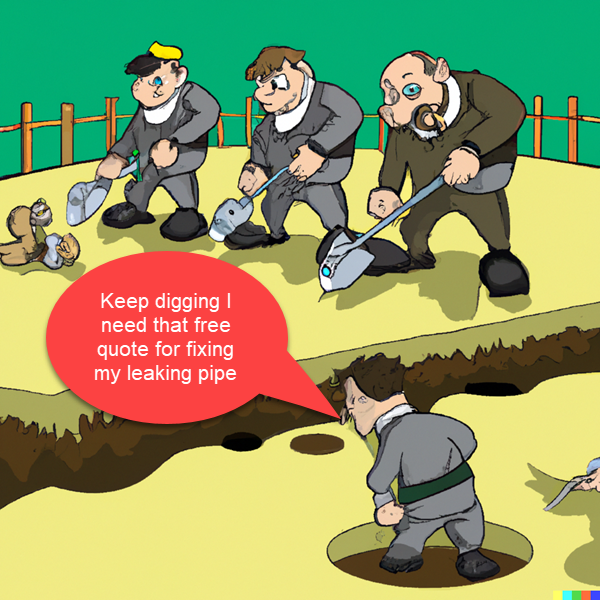 Would you go to work for free?
Whywait Plumbing does not provide free plumbing quotes or estimates and has never done so on any service or maintenance plumbing works.
Yes, we will do free plumbing quotes if you bring a set of design drawings into our office, such as hydraulic or architectural plans.
If we have to attend on-site at your home or business premises, there are significant costs involved for us. That is why we charge you a diagnostic fee.
Businesses that advertise that they undertake free quotes or devalue their time and their expertise. I guarantee you will pay for their time, hidden somewhere in their charges because, as the saying goes, there is no such thing as a free lunch.
Think about it, would you go to work for free?
People who want free quotes are…
We learnt long ago that offering free plumbing quotes or estimates wastes our time, money and company resources.
In our experience, people who call Whywait Plumbing asking for free plumbing quotes or expecting us to come to the site and solve their problems obligation-free fall into the following categories:
Dreamers who are toying with some vague idea of a plumbing installation such as a third bathroom or outdoor kitchen, who want us to design it all and solve all the problems but have little intention of using our services

price checkers who want us to give them a comparison price in the hope we come up with a cheaper alternative to undertake the work

time-wasting people who have a significant plumbing issue, such as flooding in their backyard in heavy rainfall, who want us to investigate and solve the problems and are insistent on picking our brains, getting all the information off us so they can then do it themselves or get a handyman to do it

the DIY homeowner who wants to pick our brain so he can run to Bunnings and be a weekend warrior playing at being a plumber.
Without profit, any business is just an expensive hobby
We learnt at Whywait a long ago to accept that we cannot compete with competitors who devalue their plumbing licenses by racing to the bottom with clients who are only interested in PRICE, being:
a cheap price,

a less expensive than fair price that an alleged competitor has quoted over the phone,

an entirely unreasonably and pathetically inadequate price that does not even cover the plumbers' wages.
As the owner of Whywait Plumbing, I was lucky enough to learn a long time ago that we always had to do our budgets and know where our break-even cost was so we know when to say NO. This ensures that we don't waiver from our commitment to providing outstanding customer service from well-trained and professional plumbers who stand behind their work.
As I said previously, there is no such thing as a free lunch because Whywait Plumbing Pty Ltd is a business that is legally obligated to generate profits.
I reiterate that without profit, any business is just an expensive hobby.