A DIY installation of Douche Spray or Bidet Spray is Against the Law
It is illegal to install a douche spray or bidet spray in Queensland unless it complies with AS/NZS 3500.1:2018 clause 12.2.3 below, which classifies bidet toilet seats and douche sprays as toilet seat douches. 12.2.3 Toilet seat douches – Where the douche outlet, in all positions, is at least 25 mm above the overflow level of the pan, backflow prevention is not required. Where the douche outlet, in any position, is less than 25 mm above the overflow of the pan, a high-hazard backflow prevention device, conforming to AS/NZS 2845.1 or AS 2845.2, shall be installed. This device shall be either part of the douche or installed separately.
It is entirely illegal to undertake a DIY installation of douche spray or bidet spray, despite what you may read on social media.
Yes, a plumber can legally install them, provided they are installed with compliant backflow prevention valves and registered with a Form 9 at the City of Gold Coast or Logan City Council, plus lodgement of Form 4 with the Queensland Building and Construction Commission.
These requirements are not optional; they are required under law as per the Plumbing and Drainage Act 2018.
Illegal bidet seat attachments
Unfortunately, advertisements everywhere on social media or websites promote DIY, such as My Bidet Australia. The product they advertise as an easy-install toilet seat bidet is illegal. They promote on their website as – Quick and Easy Installation: Includes everything you need, including tools to get your bidet up and running in minutes. Easily attaches to and detaches from any standard two-piece toilet.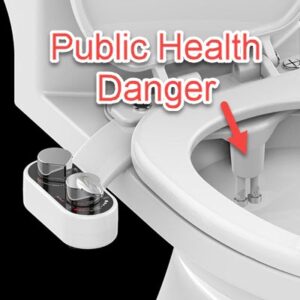 The reality is the product has no WaterMark certification. The photo illustrates clearly on their website that the dual nozzles are deep inside the toilet bowl, creating a high backflow risk. This is categorised as high risk as back-siphonage can occur through these nozzles allowing contaminated water from the toilet bowl to be sucked into the potable or drinking water supply.
The toilet seat bidet from My Bidet Australia sells online for $99, indicating its "quality". The price should be a warning enough as to how good this product is likely to be as good quality WaterMark approved bidet seats such as a Toto Washlet start at around $1199.00 in Australia. The old saying you get what you pay for applies absolutely for this dangerous product. It is frightening that they state on their website – Upgrade your bathroom with beautifully designed bidet attachments, featuring water pressure control knobs. We use high-quality parts that are built to last. They are constructed with high-pressure faucet quality valves and metal/ceramic core.
Common sense dictates that you cannot produce high quality for $99, which complies with Australian Standards. Unfortunately, this product is being advertised everywhere on Facebook and Google. Currently, if you do a Google search for a Toto bidet seat, the first result in Google AdWords is incredibly for not Toto but My Bidet Australia. It truly is a case of buyer beware and why you need to check it is approved for use in Australia with a WaterMark certification.
What does backflow mean?
Backflow is simply the reverse flow of water. When we refer to it in plumbing terms, it stops contaminated water from being drawn back into the water supply system we all use for drinking.
In terms of an illegally installed douche spray or bidet spray, this can occur when the water pressure drops significantly. Suppose nozzles or sprays connected to the water supply are in contact with a contaminated water supply in a toilet. In that case, there is a potential for that contaminated water to be sucked into the drinking water supply. In simple terms, it is like you are sucking on a straw. There are two ways that backflow contamination will occur because of a water pressure drop:
Back pressure occurs if there is an increase in the downstream pressure, which creates a reversal of the normal direction of the water flow.
Back-siphonage occurs when there is a drop in the supply pressure, thereby creating a negative pressure situation in the water supply. Commonly this will happen if the water is suddenly turned off or there is a dramatic increase in demand, such as water used for fire fighting.
Backflow contamination is possible with a bidet seat, douche spray, or bidet spray; if occurring, it is classified as high risk. This is why all of these products, by law, must be:
installed by a licensed plumber
have WaterMark certification
have a testable backflow valve installed, such as an RPZ valve
have a Form 4 lodged with QBCC
have a form 9 lodged with the local water authority
The law requires all the above; they are not optional extras.
What does high hazard mean?
High hazard is the highest-rated hazard in the cross-connection hazard rating in AS/NZS 3500.1-2018, which is covered in Section 4 Cross-Connection Control and Backflow Prevention. As Licensed Plumbers, we know how serious this section is in ensuring that our drinking water is not contaminated and potentially life-threatening. Clause 4.3 below lists all three ratings: 4.3 CROSS-CONNECTION HAZARD RATING Cross-connections are rated using three degrees of hazard, as follows:
(a)      High hazard     Any condition, device, or practice that, in connection with the water supply system, has the potential to cause death.
(b)      Medium hazard    Any condition, device, or practice that, in connection with the water supply system, has the potential to endanger health.
(c)       Low hazard     Any condition, device or practise that, in connection with the water supply system, constitutes a nuisance but does not endanger the health or cause injury.
The high hazard rating is not a scare tactic when we talk about an illegal or non-compliant bidet seat, douche spray, or bidet spray. It is a health issue, with the critical wording being the potential to cause death. As Plumbers, we are not over-sensationalising the dangers of DIY installation of a bidet seat, douche spray or bidet spray. We are just telling you these are the legal requirements as per the Plumbing and Drainage Act 2018.
Can a DIY installation affect insurance policies?
Any plumbing fixture illegally or non-compliantly installed in your home or business can null and void your home and contents insurance policies. Any bidet seat, douche spray or bidet spray that is not installed by a Licensed Plumber or does not have WaterMark certification has the potential to flood your home. A burst flexihose on these dodgy products can flood your home very quickly.
ACCC and Government warnings
We all understand that COVID-19 has caused great uncertainty and angst, but a DIY installation of a toilet bidet seat or douche spray or bidet spray is merely breaking the law. DIY of any plumbing fixture has potentially dire consequences, and with products such as the toilet seat bidet from My Bidet Australia, you are risking severe illness or death.
It has become so intense a concern that the Australian Consumer Competition Commission (ACCC) has issued an alert concerning the supply and installation of bidet products. The ACCC, in consultation with the ABCB or Australian Building Codes Board and Standards Australia, has published a joint warning, COVID-19: Supplying and installing bidet products, on the Product Safety Australia website.
The ACCC, the ABCB and every state government have become alarmed that the COVID-19 pandemic has seen a dramatic increase in the purchase of toilet seat bidet douches, handheld bidet sprays and trigger sprays, and other bidet-type products that are connected to toilet water supply valve are being installed as a DIY project. The critical message of every alert issued by every state government is that the installation of any bidet product connected to the drinking water supply must be undertaken by a licensed plumber and must hold
WaterMark certification
.