GOLD COAST NO.1 ROOF PLUMBING COMPANY
Downpipes, leaking roofs, drainage – Whywait Plumbing are experienced and skilled roof plumbers here to assist 7 days a week!
ROOF PLUMBING ENQUIRIES
For same day service call (07) 5580 4311. For non urgent repairs feel free to send us your details.
Gold Coast Roof Plumbers Available 7 Days For All Roof Plumbing, Downpipes & Guttering
ROOF LEAK REPAIRS
Replacing a Gold Coast leaking roof is extremely expensive and must always be the absolute last resort. Preventative maintenance of any roof will always give you peace of mind with a combination of repairs and ongoing maintenance.
Whywait Plumbing is your local expert in fixing any Gold Coast leaking roof because we understand the urgency of a leaking roof. When we come to a leaking roof we handle the repair professionally from the start by:
ensuring the roof is safe to climb onto and walk on as safety on a roof is paramount
we investigate where the leak or leaks are coming from because water travels quickly in a roof so where you see it dripping into your house is seldom where it is on the roof
check roof flashings and vent pipe flashings as many leaks originate around the flashings
repair or replace broken concrete roof tiles
repair any profile Zincalum or Colorbond metal roof
It's important to remember that a roof leak can be occurring in multiple areas of a roof so repairing any roof leak is a process of elimination.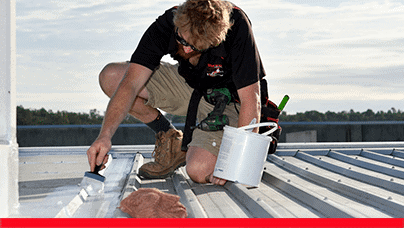 ROOF VENTILATION
Roof ventilation fan installations stop you feeling summer heat extremes in your home. This is an absolute guarantee by Whywait
Plumbing when we install a SolarArk solar powered roof ventilation fan system in your home.
In fact, in the middle of summer on the Gold Coast, it can reduce the temperature in your roof space which is the area between your roof and ceiling by 30°C.
This translates to a reduction in room temperature inside your home of up to 6°C. Imagine the difference this makes to the efficiency, performance and electricity costs of your air conditioning systems.
The installation of one or more SolarArk roof ventilation systems continuously exchanges the hot roof space air to suppress ongoing heat buildup during the day. During the summer months especially but even year-round your roof attracts the sun's heat transferring that heat through your roof and super heating the air in the roof space. This then transfers into heating up the inside of your home and increasing the temperature in your living areas.
GUTTER & DOWNPIPE REPAIRS
The roof over your head is critical infrastructure in any home. Unfortunately, the roof and the guttering on the house are taken for granted, until they leak.
A Gold Coast leaking roof can start as a small problem that appears to go away, as soon as the rain stops. That is of course until we get summer storms and heavy rain.
A leaking roof will never go away and can quickly turn into a major disaster. What starts off as a few drops of water on the ceiling or through a light fitting can quickly turn into major property damage with a ceiling collapsing.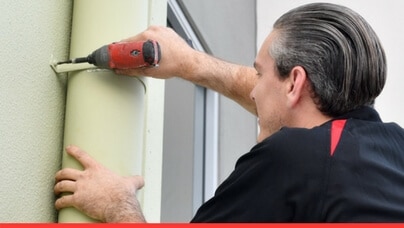 If you notice water coming through the ceiling, then you have a potentially major problem. A Gold Coast leaking roof is not a DIY repair. Despite what many people think you seldom can fix a leaking roof by squirting silicon everywhere. A leaking roof required experienced plumbers who know how to walk on a roof and what to look for.
A ceiling collapsing due to the influx of rainwater in a storm can cause thousands of dollars of damage and can cost even more to repair. Even worse is the loss of valuable, treasured personal items that are destroyed by water damage.