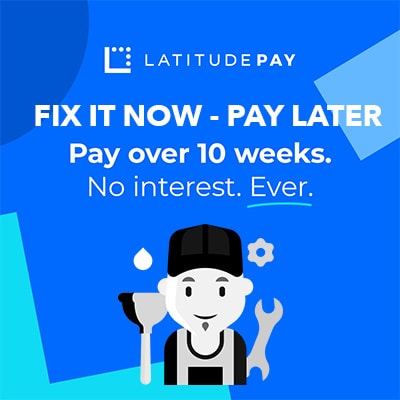 FIX YOUR PLUMBING TODAY – PAY LATER!
Whywait Plumbing Services is proud to be a leading plumber and gas fitter on the Gold Coast. We have been servicing homes and businesses from Tweed to Logan since 1976, that's over 42 years.
We Won't Compromise on Quality or Service – And Neither Should You!
Why are we still around when many Gold Coast plumbers have been and gone? Because our plumbers and gas fitters are reliable and professional, and we refuse to lower our standards or use cheap, inferior plumbing products.
And now, you don't need to worry about lowering your quality or standards either – with Latitude Pay you have 10 weeks of INTEREST FREE PAYMENTS to pay for any plumbing or gas repairs – without compromising quality or service!
Which Whywait Plumbing Services Can I Pay For With Latitude Pay?
Whywait Plumbing customers can use Latitude to pay for all of our services, including:
Contact Whywait Plumbing today on (07) 5580 4311 for more information!
LATITUDE PAYMENT ENQUIRY
For more information on Latitude Interest Free Payments for Whywait Plumbing Services, simply call or send us your details and we will get back to you shortly.
Excellent service and able to come in a short time.
Will recommend to everyone.