GOLD COAST GREASETRAP SPECIALISTS
From greasetrap cleaning to relining & new greasetraps. Don't risk a fine, call us today for same day Greasetrap maintenance!
GREASETRAP BOOKINGS
For same day service call (07) 5580 4311. For non urgent repairs feel free to send us your details.
GOLD COAST GREASETRAP SPECIALISTS
FROM GREASETRAP RELINING TO NEW GREASETRAPS & GREASETRAP SERVICING, WE DO IT ALL!
TWEED TO LOGAN 7 DAY SERVICE
Grease Trap Maintenance Reduces The Risk Of Lost Business From Grease Trap Blockages
Grease trap maintenance from Whywait Plumbing will keep your business running smoothly.
Because after all, we have been specialising in maintaining grease traps for 40 years, since 1976 as your local, reliable and professional Gold Coast Plumber. We have been voted as one of the Best Plumbers on the Gold Coast in 2002, 2004, 2006 and 2015
Don't Let Your Greasetrap Impact on Your Business
Disruption to business operations for a coffee shop, restaurant, cafe, hotel kitchen, commercial kitchen, shopping centre, theme park or any commercial business is an everyday threat caused by trade waste drains, pump wells and grease traps failing to perform that have critical business and financial implications.
The business disruptions that commonly occur due to poor grease trap maintenance are:
blocked trade waste drains due to a build-up of excessive fats, oils and grease
blocked trade waste drains due to the grease trap becoming clogged up with solidified fat and grease
sewer overflow inside the building due to blocked drain or grease trap
offensive odour release both inside a building and outside
pump well pump systems failing due to the effect of fats, oil and grease on pump impellers
The cost to any business of this type of disruption cannot be understated with cleanup costs, customer dissatisfaction, staff dissatisfaction, poor reputation to name just a few.
The Whywait Grease Trap Solution
Whywait Plumbing has a guaranteed grease trap maintenance solution, in a grease trap source control maintenance system. A solution that is purpose designed to every specific grease trap application.
Every grease trap installation and jurisdiction has differing requirements with governance,  maintenance requirements, sustainability and responsibility.
So a Whywait grease trap source control maintenance system enables every grease trap installation to be individually managed and maintained so that it:
eliminates blockages in drains and grease traps
eliminates offensive odour
managed and measured for future growth
managed proactively by the implementation of a management system that eliminates business disruption
guarantees accountability to reduce environmental and workplace incidents
a guaranteed proactive and supported solution to grease trap infrastructure assets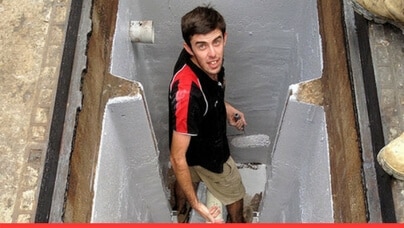 Contact Us For Assistance