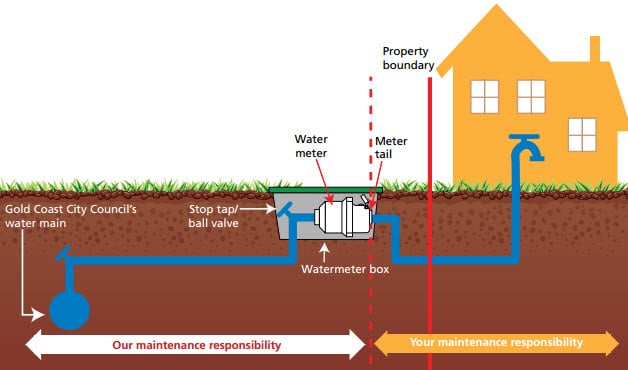 Learn How To Read Your Water Meter
How to read your water meter is a simple task to learn. It is a DIY priority as it's a guarantee if you live in an individual residential house that you will have your own individual water meter. This applies to most duplexes as well, but some duplexes and group or strata-titled properties will have only one water meter which reads all water used on the property in its entirety, no matter how many homes are located within the property.
Locating Where Your Water Meter Is
It is your responsibility to ensure that your water meter is accessible for the council meter readers to read the meter at all times. But you do not own the meter as it remains always council property.
On all residential properties the water meter is easy to locate as it will be located:
around 500mm from the left-hand or right-hand side boundary and about 500mm back from the front boundary on the council grass verge
for its protection from damage, it will be below ground level in a plastic or concrete pit with a plastic or metal lid marked 'Water Meter.'
Water Leaks Are YOUR Responsibility
If you are the registered property owner then very simply you are responsible for the pipes and fittings that are connected to the council water meter that is anywhere inside your property.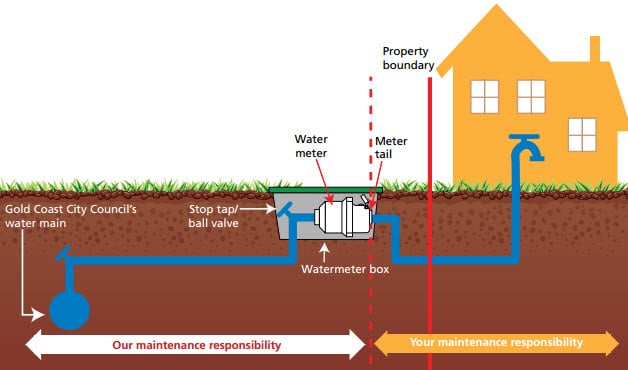 The diagram above clearly illustrates from a Gold Coast Water perspective as to where their responsibilities finish and where yours start. Remember it is always the registered property owner who is responsible for paying for all water that is recorded as having gone through the water meter.  This includes any water used that is lost due to internal leaks in taps or toilets or concealed underground water main pipe leakage.
How To Read Your Water Meter & Check For Leaks
Here at Whywait Plumbing we always recommend a periodic but regular reading of your water meter to check for any concealed leaks on your property. The short City of Gold Coast video below demonstrates exactly what you need to do to read your water meter.
Remember a regular but simple preventative procedure of reading your water meter can potentially save you thousands of dollars in council water charges. Frequently most leaks are not visible as your water pipes are always underground or inside walls or the floor.
If in doubt on how to read your water meter or suspect you have a concealed leak act now and call Whywait Plumbing now to get the repairs you need.